Flash Animation Book
Earlier this year, a new book titled 'Hollywood 2D Digital Animation: The New Flash Production Revolution,' was released,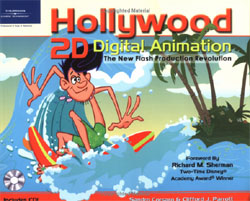 and I've been slowly thumbing my way through it for the last several months. Some great stuff in there, and some fascinating interviews with a wide array of animation minds from around the industry (including yours truly on page 70).
Sandro and Cliff did a great job, and I encourage anyone looking to pump up their Flash skills to stop by Amazon and pick up a copy.