Hi Hi Puffy Ami Yumi Starts Strong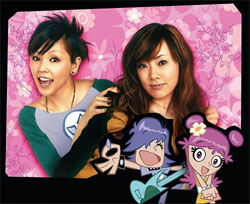 If a dozen Flash-animated shows are green-lit tomorrow morning, it's undoubtedly a good thing for the Flash world at large. But it wouldn't mean a damn thing if those shows were summarily canceled 6 weeks later, right? So put your hands together for the latest ratings success – 'Hi Hi Puffy Ami Yumi,' the new King (or should I say 'Queen') of the Kids 2-11 ratings segment (source: Animation Insider).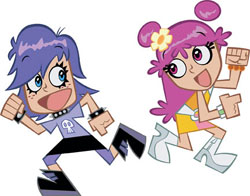 'Hi Hi Puffy Ami Yumi,' the plucky, eye-candy-filled, relationship-driven (sorry guys, no fights or power-ups in this show) has delivered the goods for Cartoon Network, the undisputed #1 supporter of Flash animation on US television. With the strongest ratings ever for an original premiere in the Kids 2-11 segment, 'Puffy' seems well poised for a lengthy run. Girls, not surprisingly, have taken to the show in droves, increasing CN's female eyeball count by over 60% during that time slot.
As far as the show itself, the producers have chosen the perfect animation platform for the show's look and feel (it's animated by Renegade Animation). The simple, iconic designs and the Hanna Barbera-esque appeal make this is an ideal show for Flash, and I look forward to several more seasons of this beautiful show.