Amazon Pimps Out Flash DVD
To my knowledge, there has yet to be a theatrically released, Flash-animated feature film. But back in 2001, we had 'Lil Pimp,' based on the viral Mediatrip Flash shorts, and it was due to hit the silver screen in 2003. That year came and went, and so did the rumors, and then the confirmation of the rumors, and then finally the straight-to-DVD release last month. I have mixed feelings about the path this film took, as part of me wants to see a blockbuster, Flash-animated feature storm the cinemas, and the other half wants it to not be about a 9-year-old pimp. Not to say that the online shorts weren't hysterical, but Flash is slowly gaining animation legitimacy, and this film never quite seemed to spell 'pioneer.'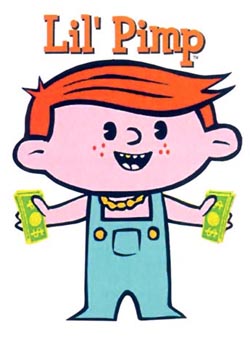 All that being said, I've been closely tracking the DVD release of 'Lil Pimp,' much as I anticipated the Flash-animated, direct-to-video Mucha Lucha feature. 'Finding Nemo' they're not, but these feature-length Flash films are the next step in the evolution of an animation method that nearly died in 2000′s dot-bomb market slide.
So, while browsing Amazon.com, looking for any signs of sales success, I noticed that 'Lil' Pimp' was ranked #3,058 on the DVD sales list. Is that out of 3,100 DVD titles? Or 31,000? Hard to say, so I started digging, and what I concluded is that 'Lil Pimp' is selling, well, not that bad. If we look at the sales ranking of other animated DVDs released on the same day, you could almost call this film a success. It's trailing the latest 'Land Before Time' film, and Dora's latest exploration, but it's a nose ahead of Disney's Classic Cartoon DVD featuring old Mickey Mouse shorts. The biggest shocker, however, is how soundly 'Lil Pimp' is thumping a Spongebob episode compilation DVD (see rankings below).
This is all under the assumption that Amazon's sales rankings actually mean something, and I welcome you to decide for yourself. Here's what the site says about their stats:
WHAT SALES RANK MEANS
As an added service for customers, authors, publishers, artists, labels, and studios, we show how items in our catalog are selling. The lower the number, the higher the sales for that particular item. The calculation is based on Amazon.com sales and is updated each hour to reflect recent and historical sales of every item sold on Amazon.com. We hope you find the Amazon.com Sales Rank interesting!
I, for one, DO find it interesting, although I'd prefer unambiguous cold, hard dollar figures. So, what does this unusual exercise in DVD sales tracking teach us? Perhaps it's that baby steps are important, and if this baby happens to be a 9-year-old pimp, then so be it.
There are no comments yet, add one below.