The Brno Inferno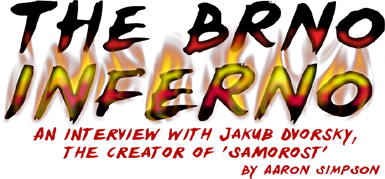 One of the hottest interactive experiences of the last few years is undoubtedly 'Samorost.' This 2004 Webby Award nominee starts off innocently enough, with haunting music and eye-catching graphics. But then, before you know it, you're hooked, and you've fallen into Jakub's world.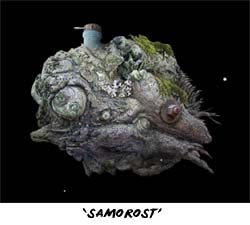 It's a land of enchanting, mossy log houses, hookah-smoking ski lift operators, and phonograph loving squirrels, all wrapped into a challenging yet remarkably simple Flash game. You end up saving a planet from imminent doom, but along the way, you've seen Jakub Dvorsky graduate from art school. 'Samorost,' a Czech word which loosely translates to 'anthropomorphic wood,' was his senior thesis from VSUP, and it also helped Jakub graduate to the upper echelons of the interactive business world.
Not long after Samorost crashed his friend's server,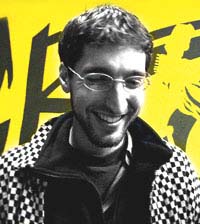 Nike came calling, followed by The Polyphonic Spree, the 24-member band heard in last year's 'Eternal Sunshine of the Spotless Mind.' Jakub created extensions of his Samorost world for these two marketing efforts, both filled with more aged logs, budding fruit and one rather famous jet-shoed hoops player. And more recently, Jakub has been dabbling in the linear world of animation. He has again teamed up with a band, Under Byen, a Danish group that seems overdue to hit it big in the States. Jakub's new music video project (or video clip, as he calls it) is a Flash production filled with his stunning photography and photoshop work, and it plays against a hauntingly beautiful track that draws inevitable comparisons to Bjork and Sigur Ros (click for MP3).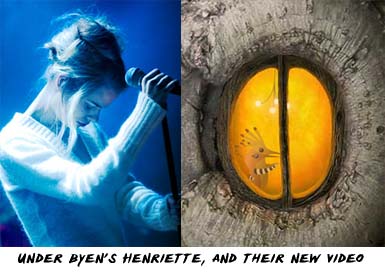 Jakub lives in Brno, Czech Republic, which is not far from where my wife, Daniela, grew up. We are so excited to see a Czech native burning so bright in the Flash world, and we wish he and his new company Amanita Design the best of luck.
AARON SIMPSON: When did you first start using Macromedia's Flash software?
JAKUB DVORSKY: It was in 2001.
AS: At what point did you realize that 'Samorost' had become a worldwide internet hit?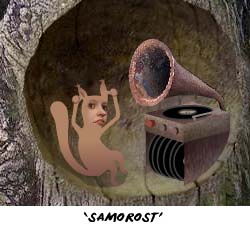 JD: Initially 'Samorost' was hosted on a server which was paid for by my friends for their music club website for a couple of weeks, but soon the server collapsed from the huge overload, so I realized the game is far more popular then I expected.
AS: How does your character design process work? Do you first design on paper?
JD: Yes, first I make simple sketches on paper and then I re-draw it in Flash (characters) or Photoshop (backgrounds).
AS: Your recent animation for the Danish band Under Byen was produced as a linear, non-interactive project. Does this type of work interest you as much as your interactive projects?
JD: I'm mainly interested in interactive projects, but to make a video clip for Under Byen was a challenge for me because I love their music and I always wanted to make video clips.
AS: What functionality would you like to see in the next version of Flash?
JD: Better work with bitmaps and a faster player. I saw a presentation of new Flash at the Macromedia Conference in Japan so I expect it will be very fast.
AS: What was the most exciting part of your experience at the Max Conference in Japan?
JD: I was there only 5 days, but I experienced the end of a very strong typhoon and an earthquake, otherwise I met a lot of very fine people.
AS: The photos in your Flash projects are beautiful. Did you have extensive photography training?
JD: No I'm self-taught.
AS: What personal projects are next for you?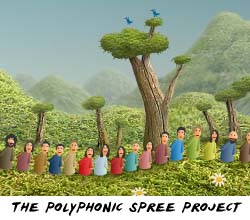 JD: Now I'm working on sequel to Samorost, but it's too early for publishing screenshots from it because it'll take at least 6 more months to finish it (it will be much longer then Samorost).
AS: You've said before that the nature photographs in your work were taken near your cottage. Where is this cottage?
JD: It's near Moravska Trebova, about 70km from Brno where I live.
AS: When you were attending VSUP (The Academy of Arts, Architecture and Design, Prague), was Flash a major part of your curriculum?
JD: No, I studied classical animation – hand drawn and puppet. Computer training was on my own initiative.
AS: I'm slowly learning to speak Czech – do you have any words of advice?
JD: You should know how to order beer in pub:)
pivo – beer
jeste jedno – one more
zaplatim – can I pay?