Cool and His Gang, Part 3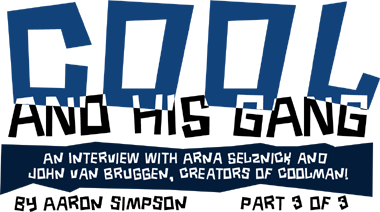 Over the last few days, I've posted the first two parts of a three part interview with Arna Selznick and John van Bruggen, the creator's 'Coolman!' which is currently airing on YTV's Funpak block. In this final section, we discuss retakes, the 'Coolman!' soundtrack and what inspires this Toronto duo.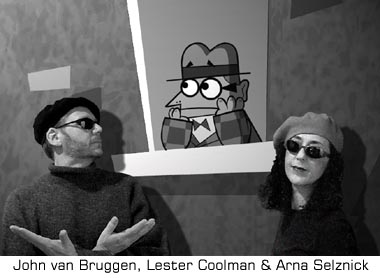 AARON SIMPSON: Tell us about how calling retakes worked throughout your production.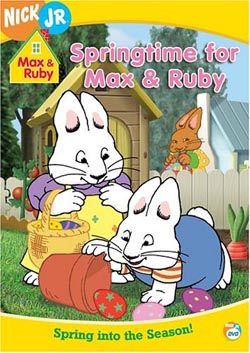 ARNA SELZNICK: Our friend, animator/director Jamie Whitney ('Peep,' 'Max & Ruby'), gave us some great tips for Flash production such as using guide levels to communicate with our animators.
JOHN VAN BRUGGEN: The animators downloaded everything they needed, worked on a series of scenes, then uploaded them back onto Nelnet. Arna and I reviewed the scenes and, using Nelnet, posted our reshoot requests. We often added a guide level to the FLA for visual notes, refieldings and retimings. After that, we reloaded the scenes to Nelnet where the animator could retrieve them. The animators often revised their scenes in less than 24 hours.
ARNA: We sometimes adjusted timing ourselves for immediate results without having to send scenes back. Flash is great that way — there's no waiting for revisions to go through the traditional 2D pipeline.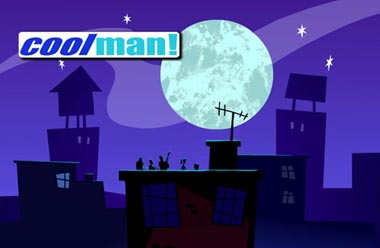 AARON: The backgrounds in Coolman are amazing. Who was your designer, and how were they made?
JOHN: We really owe the look of the show to our BG artists, Kellie de Vries and Joseph Sherman. They did an amazing job, considering what they were up against. Our BG schedule was especially tight and we were forced to skip the layout stage. Kellie and Joe worked from Arna's preliminary designs, a few BG keys for visual suggestions and finally, from the storyboard panels themselves. They also brought their own design sensibilities to 'Coolman!' Joe made wonderful and subtle use of gradations in Flash, especially in Lester's world. Kellie has a great colour sense and really took advantage of Photoshop-generated textures.
AARON: Did you have any technical issues with Flash along the way?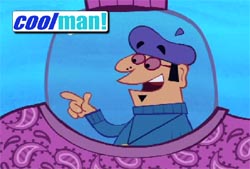 ARNA: The paisley designs on the sub in 'Deep Sea Blues' caused a little trouble at first. All of those paisley 'subgroups' (no pun intended) made Flash run veerrrrrry slooooowly. Steve had to break the design and regroup it as one symbol before we could make it move without crashing Flash.
JOHN: The same thing happened the first time we tried panning our underwater scenes. Kellie created a nifty sand texture in Flash for the sea bed, with many sand grains. It was a memory hog and caused the pans to chug. We had to loose the sand grains even though they looked cool.
AARON: For your jazzy soundtrack, did you record live instrumentation or score digitally?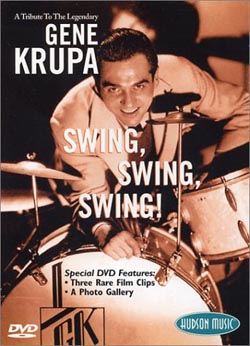 JOHN: I always imagined having a 'live' acoustic jazz score for 'Coolman.' And, we always had Tom Szczesniak and Ray Parker in mind for our composers. They both play jazz and know many of the great players in Toronto. Tom and Ray are animation veterans, so they knew how to accommodate our schedule and budget. In the case of the 'Sappy Song,' Ray and Tom generated a scratch (mostly synth) temp track for our Miss Dee, Emilie-Claire Barlow, to sing along with. Our animators worked to a track which combined the temp track with Emilie-Claire's final vocals. The 'real' music for that song, recorded a few months later with live musicians, eventually replaced the scratch track. The band sounded great on the floor, especially during the long 'Gene Krupa' style piece for Coolman's climactic robot showdown in the 'Tennis' show.
AARON: What animated shows do you watch regularly?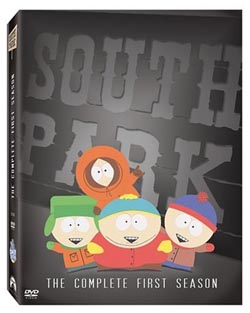 JOHN: Lately, we've been too busy to watch very much animation on television! Oh, except for 'Funpak!' We're more likely to watch animation at the theatre, or on DVD, especially anything by Pixar or (Hayao) Miyazaki. I still catch 'South Park' once in a while; I'm a big fan of Eric Cartman. I did most of my cartoon watching when I was a kid. I loved 'Tom Terrific' and all the early Hanna Barbera stuff, like 'Ruff and Reddy.'
ARNA: I'm looking forward to seeing 'Howl's Moving Castle'.
AARON: Do you two share similar artist tastes?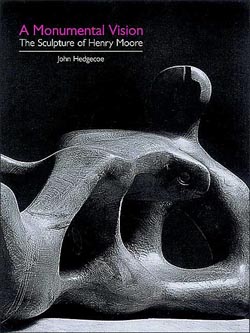 JOHN: We do share similar tastes in art, although Arna is more interested in sculpture. I'll walk through a gallery looking at the paintings and completely miss the amazing (and amazingly large) 'Henry Moore' smack dab in the middle of the room.
AARON: What illustrators or painters inspire you?
JOHN: I basically learned how to draw from cartoons and comic books. In grade school, I wrote and illustrated original stories based on the old 'Beatles' cartoon show. In my angst-ridden teen years, I emulated Edvard Munch and Vincent van Gogh. These days I admire the work of (Hayao) Miyazaki and the Ghibli Studio.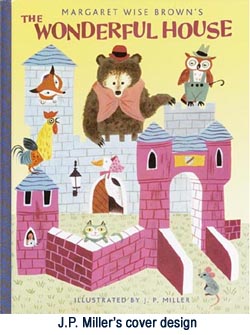 ARNA: I'm a fan of mid-twentieth century kids' books such as 'Blueberries For Sal' and 'Make Way For Ducklings' by Robert McCloskie. Also, 'A Snowy Day' by Ezra Jack Keats, and anything by J. P. Miller.
When John and I were in Amsterdam we picked up postcards by Fiep Westerdorp. I love her stuff. Plus, I'm inspired by the work of my son, the illustrator and comic artist Salgood Sam.
Also…today I saw some cool sculpture by Ernesto Neto.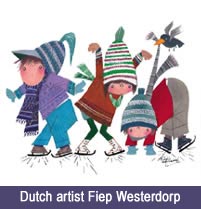 AARON: Do you have any career advice for animation artists and writers graduating this spring?
ARNA: Stay open to influences around you as your art develops, but keep in touch with your own artistic voice. And don't listen to too much advice…
AARON: Are there any more collaborations in the works from you two?
ARNA: Oh yes…ideas for more short subjects and a few longer form stories, too!
Well that's it for my interview with Arna Selznick and John van Bruggen, the creators of 'Coolman!' Don't forget to watch their latest episode 'Hootchy Kootchy Haiku' at 7:30pm on Thursday, March 10th on YTV's Funpak block. Then go to the site and vote!
In the meantime, check out this Quicktime clip from 'Coolman!'


There are no comments yet, add one below.