Gruesome Results
The show featured in one my creator interviews last month,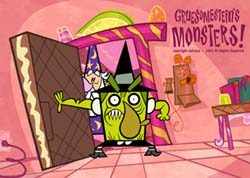 'Gruesomestein's Monsters,' won the first week of voting in YTV's on-air contest. Riccardo Durante and Mark Ackland's Flash-animated series had its TV premiere earlier this month, and now the full 5-minute episode is also available on the web. Follow this link to the YTP Funpak site, and look for the Gruesomestein's image in the lower right hand corner of the page. You'll need Windows Media Player 10 to view the short, which you can download for free.
If your cable service offers YTV, keep your eyes peeled for the next Gruesomestein's episode on February 17th at 7:30pm – "Dr. Heckyl and Mr. Jerk."
Congrats guys!
There are no comments yet, add one below.