Maelstrom Crystallizes Blur Effect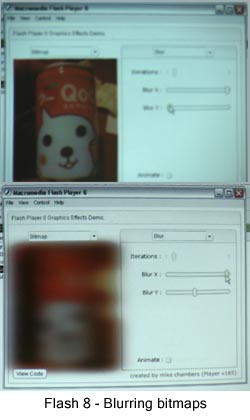 A few weeks ago, the Macromedia folks came down to Los Angeles to preview Maelstrom, the next generation of the Flash Player – or version 8. One of the topics was the blur functionality, as evidenced by this photo. Back in December, I had posted about this upcoming software launch, highlighting the line tool, the blending functionality and new gradient controls. I'd read about this upcoming blur feature, but hadn't seen it in action on a bitmap, but now we've got proof. The word on the street is that we're also due to see glow effects and beveling – functionality usually available only from Photoshop imports.
There are no comments yet, add one below.