New Flash Show Set To Swing
Not sure how I missed this bit of information, but last September,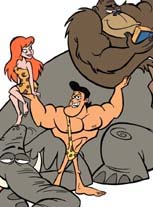 Canada's Studio B announced a new Flash series, George of the Jungle. The AWN article explains that,
Each episode will find finely-coiffed, but dimwitted, George, along with his loyal pet elephant Shem and lovely damsel in distress Ursula, protecting the jungle from a never-ending scourge of dastardly bad guys. He leaves the thinking to Ape, his brainy seven-foot gorilla sidekick.
It's slotted for airing on Canada's Teletoons network, but you can bet that before long it will also cut a path into a jungle near you. The studio announced 52 11-minute episodes of this Jay Ward property, and I'm guessing that it's just the first of his properties that will emerge in the Flash format. His shows essentially invented limited-animation, a process that Flash then re-invented many years later.
There are no comments yet, add one below.