Robot Family Guy, Part 2

I recently posted the first half of an interview with Chris Harding, one of the brilliant minds behind the recently honored 'Robot Family' shorts. In the second half of our interview, we learn what inspires Chris, what he's watching, who he's teaming up with, and what we'll see next from this immensely talented comic-artist-turned-animator.
AS: What and who inspires your work?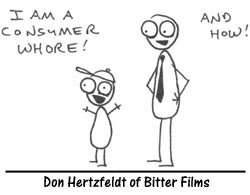 CH: There are so many great things. Animation-wise, I'm a big fan of Don Hertzfeldt. His writing is amazing. He takes animation to a very high level, even though – or maybe because – he draws stick figures. My favorite regular film director is Stanley Kubrick. There was a show on the BBC called 'The Office'that was gold.
Maybe the best inspiration comes from books.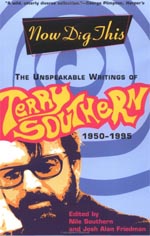 I usually read non-fiction, but lately I've been reading Terry Southern. The nice thing about books is that they don't translate directly into animation. You need to take in the ideas, mix them with your own, and then find ways of representing them visually instead of through words. I like the idea of being inspired by one medium, and translating your thoughts into another.
AS: Which animated TV shows are on your viewing calendar?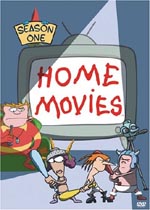 CH: Maybe it's weird. I hardly watch any animation on TV. My favorite was probably 'Home Movies' on Adult Swim. 'King of the Hill' is really well done. Of course, 'The Simpsons' is great. And there are lots of shows on that are beautiful to look at. But I like shows that don't have jokes, and the characters are just earnest and serious as they commit these ridiculous acts. I think I've had my fill of sitcom style witty banter and stories that resolve through a climactic battle.
I love watching cartoons for enjoyment. But when I'm working on my own stuff I don't watch much. There are ten million animators who are much more skilled than me. But when I'm looking for new ideas to process into my own work, I can't get it from other animation without being derivative. Almost like I'd rather not see too much of someone else's style so I won't be tempted to follow it. A lot better inspiration comes from regular life or books, because it's raw material.
AS: How do you keep your Flash skills sharp?

CH: Just using it 26 hours a day seems to do the trick. Sometimes you get to where you see the whole world in vector shapes. You look at a tree and wonder how huge a file that must be.
AS: What's the deal with Goldhouse Creative?





CH: Goldhouse used to be a full-time Web animation company. We (Jeff, Chad, and I) did a lot of client work. But now we live in three different cities, so it's more a name we put on projects we are collaborating on — mainly 'Robot Family,' as of late. All three of us are always busy with our own projects as well. On the happy occasions we get together on something, we call that Goldhouse.
AS: The greeting cards you display in your online portfolio are hysterical, in particular, I just love 'Screaming Banshee.' What was your first animated greeting card project?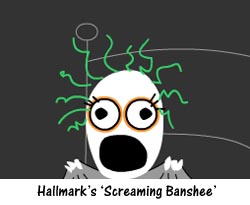 CH: I think it was about a guy who opens a barrel and all these monkeys jump out and attack him. The idea was that a barrel of monkeys wouldn't actually be all that much fun in reality. This e-card was done for Hallmark, and may still be on the web site.
AS: When you're not animating for TV animation festivals, where do you work?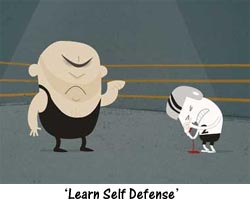 CH: I work for Hallmark, actually. And then I go home and put about equal time into my own work. I like making shorts just for the joy it. 'Learn Self Defense' is about to start playing in festivals, starting at South by Southwest.
AS: What type of team is involved on a greeting card project?

CH: We have a producer who is responsible for planning the big picture of the selection of e-cards. Then each card is usually executed by one artist, from writing, to animation, to sound. That's the great thing about learning animation this way. You learn the whole process, and get to do your own thing. You get to try lots of little experiments in storytelling because you crank through so many.
AS: I've read that the typical e-card consumer is young, male and 'edgy.' The cards you display on your site seem to offer proof of this concept. Is this your ideal audience?

CH: I don't know. That may be true. The ones on my site just happen to be some favorites. I'm male and relatively young-ish, so maybe it's a coincidence. Writing greeting cards is a very strange business, and I definitely don't have enough of a handle on it to aim at a particular audience.
AS: You live only a few hours away from Walt Disney's childhood home in Marceline, Missouri. Does this banal fact somehow make you his creative heir?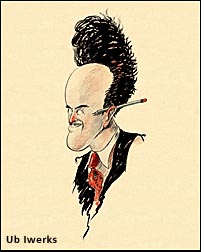 CH: Ha, ha, ha, ha, ha, ha, ha, ha, h- no. I used to live about a block from the original studio. A few years ago they had a screening of a documentary about Ub Iwerks (the guy who actually designed Mickey Mouse and animated all the early films) to raise funds to restore the old building. I'm in awe of Iwerks. As I understand it, Disney was more or less the business genius, and Ub made the films–which were wonderful back then.
Leaving out any comparisons of ability, I'd say I identify more with Iwerks. I am an idiot when it comes to marketing. I like sitting in a dark room for months on end making my little people move around the screen.
AS: Thanks for the interview, Chris. I look forward to seeing 'Miracle & Wonder,' and many, many more episodes of 'Robot Family.'