Side By Sidekick, Part 1

Next time you're stuck in traffic with your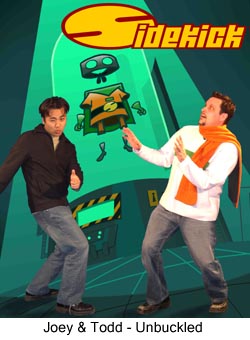 carpool buddy, get a pen ready – your next big illumination might be only a few lights ahead. Joey So and Todd Kauffman's rideshare brainstorming ended up paving the way to a side-splitting new Flash-animated series on YTV's Funpak block. It's called 'Sidekick,' a series of 5 shorts chronicling the adventures of Eric Needles, a sidekick in search of his superhero. It's half insanity, half laughs and a whole lotta fun. So buckle up and settle in for a short trip to the minds behind 'Sidekick.'
AARON SIMPSON: When did you two first team up?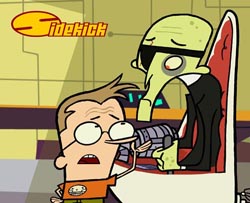 JOEY SO: We were (at Sheridan College) together and we've been at the same studio for the last couple of years.
TODD KAUFFMAN: We'd commute together from Oakville, Ontario to Toronto. We'd share a lot of ideas during the drive and we found that our humor really complimented one another. I guess it was a partnership just waiting to happen.
AS: How did the idea of 'Sidekick' first arise?
TK: I actually take time to just sit and think of scenarios for pitches. I had this rough premise floating around in my head for quite some time. It wasn't until I brought it to Joey that it started to take shape. We worked out all the bugs together, making sure there was proper character development, fleshing out premises for series ideas, creating the backdrop they would be living in and such.
JS: Todd came by with a little doodle on a post it note. He asked me if I wanted to partner up and develop and pitch this idea. I agreed only if there wasn't going to be too much work. Little did I know…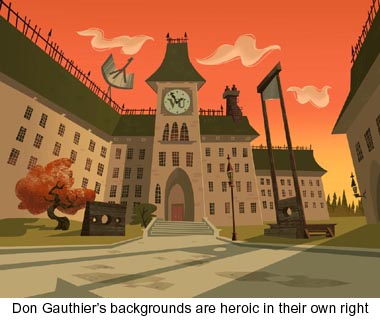 AS: How many episodes have been produced so far?
TK: To date, there are five shorts completed with many other premises we didn't have the budget to develop further.
AS: Who designed the characters in 'Sidekick? '
TK: I designed the characters and took care of animation direction.
AS: Had you two worked with Flash before teaming up on 'Sidekick?'
TK: I was just wrapping up on my first Flash show, Nelvana's 'Jacob Two-Two' doing character design when I started on 'Sidekick.' I believe Joey was supervising on his first Flash show as well – Nelvana's 'Max and Ruby.'
JS: I was the designer for Max and Ruby. It was designed and animated in Flash with imported Photoshop painted BG's.
AS: Your series is peppered with Mr. T jokes and references to 70s David Bowie songs. Are you two intentionally trying to pull in an adult audience alongside their kids?
TK: Most definitely, you really have to take it down a few notches when you write for a younger audience. I had a great time trying to find interesting ways to skirt around the more adult themed subject matter but my sense of humor is more geared for nonsensical primetime fair and I find that I'm more comfortable not having to censor myself.
JS: Yes, we were. Also kids are way smarter than people give them credit for. I don't think any of the jokes will be lost on them.
AS: Was 'Sidekick' always planned as a Flash production?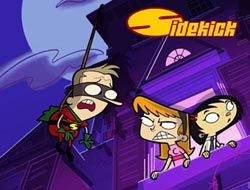 TK: As far as I knew, the original mandate of the company was to do these shorts exclusively in Flash – for budgetary reasons. It wasn't until later that I discovered this to be false and that we could've done our show in a numbers of ways. Joey and I decided to stay with Flash and keep it in-house for quicker quality control throughout the project.
JS: Yes, with our experience in Flash previously it was the natural and economic choice.
AS: How big was your animation team, and how long were you in production?
TK: Our team was bare bones. A small group of incredibly devoted and talented friends who tirelessly worked around the clock for eight months – not taking into account all the pre-production Joey and I did.
AS: What other software did your team use to create the shorts?
TK: Our art director, Don Gauthier used Photoshop to paint the backgrounds for 'Sidekick' and later would convert them to PNG's which would be imported into Flash and used to flesh out the world our characters call Splitzville.
Check back soon for part 2 of my interview with Joey So and Todd Kauffman, the creators of 'Sidekick,' playing on YTV's Funpak block. And in the meantime, enjoy these episode clips.