2005-06 Flash Shows
The upcoming TV animation season is making room for more Flash-animated series, while holding spots open for returning favorites.
Here's the latest on the Flash shows coming up in the 2005-06 season:
KIDS' WB!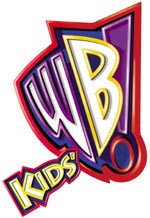 Coconut Fred's Fruit Salad Island (NEW!)
Produced by Warner Bros. Animation, this new Flash-animated show tries it's best to keep up with the indomitable spirit of Coconut Fred. He's a positive force of madness who inadvertently causes mayhem on the tropical homestead known as Fruit Salad Island. Coconut Fred is due out in the Fall, and it's also a show I happen to be producing.
CARTOON NETWORK


Foster's Home for Imaginary Friends (returning)
This is quickly becoming one of my favorite shows on the ol' TV. I spent much of the first season watching the incredibly smooth Flash animation, trying to figure out how they do it, and now I'm simply immersed in the show. This show is animated in two locations – at the Burbank-based Cartoon Network Studios LA, and at Boulder Media in Ireland.
Hi Hi Puffy AmiYumi (returning)
This show currently holds the record for Cartoon Network's best premiere, and now it's coming back for a second season. It's loosely based on the bandmates from Puffy AmiYumi, the poppy, cheery j-pop group who sing the title song for 'Teen Titans.' It's being produced and animated at Renegade Studios in Glendale, California.
Atomic Betty (returning)
Atomic Cartoons out of Vancouver, Canada, created, sold and now produces this show along with Breakthrough Entertainment. It's the only Flash-animated show on Cartoon Network that you can truly call an action show. In my opinion, Flash isn't the best option for shows like this, but you'd never know by watching 'Atomic Betty.'
Harvey Birdman, Attorney at Law (returning)
Harvey Birdman wasn't originally animated in Flash, but they've made the switch. It makes perfect sense, as the animation, while funny, is the definition of 'limited.'
DISNEY CHANNEL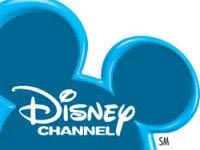 The Buzz on Maggie (NEW!)
A handful of 'Mucha Lucha' artists and production crew headed over to 'Maggie' last year, which bodes well for this show. The Mucha Crew was the first to get the overseas Flash animation pipeline oiled and pumping. It also won't hurt to have Dave Wasson, the creator of 'Time Squad,' on board as Executive Producer and Director. The show reportedly follows Maggie, a teenage fly with a positive attitude, who faces the diligent, routine-oriented world around her. The word on the street is that this show is built like a sitcom, but it looks great and animates extremely well. It kicks off in June on The Disney Channel in the 9:30am slot.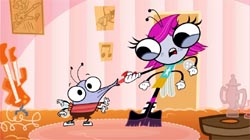 This show is being animated at Bombay-based Future Thought Productions and at Bardell Entertainment in Vancouver.
Katbot (NEW!)
Created by Funny Garbage out of New York City, Katbot originated as a web series. It stars a good-natured robot cat from planet Katatonia. She poses as a foreign student to mask her alien background, and tries to fit in with the Earth natives. You already know Funny Garbage's work – they help produce 'Crank Yankers' and designed all of the puppets and the imaginative title credits. They're also the creative team behind the 'Teen Titans' opening title sequence. This show is being animated at Funny Garbage in New York City and Collideascope in Nova Scotia.
FOX SPORTS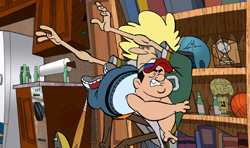 Omega Dome (NEW! – *updated*)
Coming to Fox Sports Net this Fall, 'Omega Dome' is the sporting man's delight – complete with full-contact indoor sports, as you can see from the accompanying photo. It's coming to you from the gang that delivered 'Venture Bros.' to Cartoon Network – New York City's Noodlesoup, and it centers on two sports lovers who never want to leave home. The show idea was hatched by Noodlesoup creative-guru Jeff Nodelman, and it's being written by David I. Stern, who is also busy with the script for Sony Pictures Animation's 'Betting the Farm.' Intercutting live-action sports clips with Flash animation, 'Omega Dome' has been described as 'an animated show for sports fanatics; if you quote Homer Simpson and remember where you were when LT mistook Joe Theisman for a party piñata, then this is the show for you.' If it's even half as funny as 'Venture Bros,' I'll be at the fiesta on day 1.
**update**
NICK JR.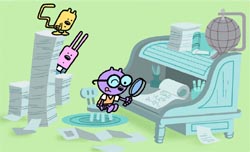 Wubby Widget & Walden (NEW!)
I somehow forgot to include Bob Boyle's new show, which will premiere in 2006. I'm not 100% sure this show will be produced in Flash, but I've heard rumblings suggesting so. The show eminated from Frederator's book-centric property effort, that landed 'Wubby' a Random House book deal. Press releases have hinted about the three characters, Wubby, Widget and Walden, who each look at the world a different way, and go about problem solving accordingly. Check out Bob's groundbreaking plog (production blog).
(A big thanks to Amid at Cartoon Brew for the support!)
(And another big thanks to botbotin and SteveLambe for fact checking!)