Enter Erin's World
Earlier this month, I posted a two-part article with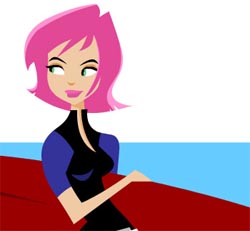 the guys at Ghostbot, the San Francisco-based animation company. Their Flash-animated Esurance ads, which Ghostbot created for Wildbrain, are now online in the Quicktime and Windows Media formats. Follow this link to see two snappy 30-second spots, featuring Erin, the pink-haired purveyor of auto policies. Great work, guys!
Related Posts
January 23, 2013

by

aaron

The Ghostbot gang have been hard at work on a new animated short for Sanzaru Games's property Sly Cooper. Here's part one of Timing is …

Ghostbot's Roque Ballesteros directed the animated elements in the latest episode of Written By A Kid. This new web series, which can be found on …

The team at FremantleMedia is hard at work on a long-awaited, upcoming series for the Hub. It's titled The Aquabats! Super Show!, co-created by Aquabats …

January 20, 2012

by

aaron

Team Ghostbot have cooked up a 3:30 minute music video for their new series CTRL+♥+DELETE. It's sugary sweet, and beautifully designed and animated. CTRL+♥+CLICK!