Indian Flash Studios
Indian animation studio Dawsen Infotech is getting set to deliver the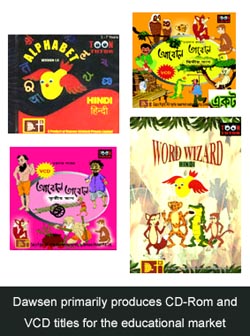 85th episode of their Flash-animated series 'Thakurmar Jhuli,' which translates roughly to 'Grandmother's Bag of Stories.' The show has been running since late 2003, and it's based on a book of the same name, written by Dakshinaranjan Mitra Majumder. It features well-known 'Bangla fiction' stories that have been passed down from one generation to the next. From what I can tell, the show is a regional presentation, running on Zee Telefilms 'Alpha Bangla' network, which makes it's long run even more impressive.
The production studio, Dawsen Infotech (I can't help but think of Initech from the live-action feature 'Office Space'), is mostly known for a few dozen CD-ROM titles, like 'Toon Tutor' and 'Word Wizard,' all presumably animated in Flash. After viewing a few samples of Dawsen's animation on their site, I can't imagine that the quality of this show is very high, but their success touches on a bigger point – Indian Flash animation is on the rise.
According to a recent study, the Indian animation industry as a whole should grow by 30% through the year 2008, at which time it will be a $15 billion industry. Rediff, an Indian newspaper, ran an article last week offering three reasons why:
1) India has a vast base of English speaking workforce
2) the presence of good studios and
3) the low cost of animation services
I think we can assume that the later is the primary reason, which is supported by this quote from the same article, "The total cost for making a full-length animated film in America is estimated to be $100 million to $175 million. In India, it can be made for $15 million to $25 million."
The recent financial collapse of Bangalore-based jadooWorks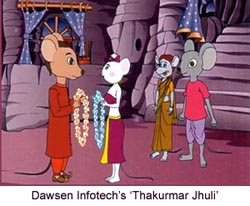 and an impending talent-shortage offer a sobering footnote to this shooting-star story. But even this incident shouldn't diminish the rapid rise of studios like UTV Toons, DQ Entertainment and Future Thought Productions, all Flash animation producers.
But through all of this, Dawsen Infotech continues to churn out episodes of 'Thakurmar Jhuli,' as well as a new Flash property titled, 'Tuntuni.' Whether it's local content like these shows, or service work for French or American studios, it seems like India will be a home to Flash animation for years to come.
There are no comments yet, add one below.