A Masked Man For All Seasons, Part 1

If animation techniques were seasons, Jorge would be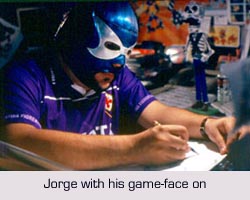 open for business 365 days a year. If animation mediums were scored like a baseball game, Jorge would have hit for the cycle. If animation styles were women, Jorge would be in big trouble with Sandra.
In the world of animation, there's not much Jorge Gutierrez hasn't already done. He's worked on a 3D-heavy feature (Stuart Little 1) and two Flash-animated TV shows ('Mucha Lucha,' 'The Buzz on Maggie'). He created his own 3D short that won a student Emmy, a hilarious, never-aired pilot for Disney, a lavish stop-motion film called 'Macho Tequila,'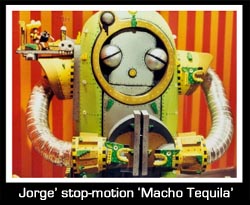 and he's optioned original shows to nearly every TV animation studio in Hollywood. Oh, and lest we forget about his continuing efforts as a gallery artist and a merchandise mogul.
But before we get ahead of ourselves, let's go back to the beginning. Jorge was born in Mexico City, and raised in Tijuana. His college years (both undergrad and grad) were spent at CalArts, where he focused primarily on 3D animation. His 8:30 minute MFA thesis 'Carmelo,' earned him the respect of the Emmy jurors and eventually screened at the Cannes Film Festival in 2001. His post-grad life found him under the tutelage of legendary designer Maurice Noble,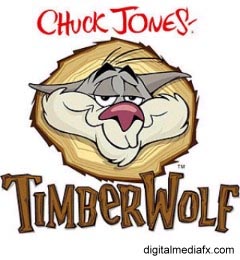 as they together dreamed up the landscapes for Chuck Jones' 'Timberwolf' web-shorts. Jorge was already versed in Flash, by way of a short he created at CalArts called 'El Macho,' so the next step was obvious. An executive at Sony Pictures Digital spotted 'El Macho' online, and quickly roped Jorge into the fold. And that's about the time I met Jorge – it was 2001, and I was already working at Sony. We were paired up, along with Roman Laney, to produce a short run of 'El Macho' shorts for the ill-fated Screenblast online network. The overseas animation studios were all lined up for a bigger push just as the plug was pulled.
But since then, Jorge hasn't looked back. He's done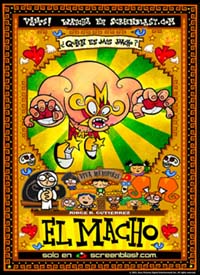 stints at Nickelodeon, Warner Bros. Animation and Disney TV Animation and every studio in town seems to want a Jorge Gutierrez original property.
You'd think the guy would be ready to retire with a resume like that. But Jorge is a spry 30-years old, and he's just getting started. He's got his sights set on a new TV pilot, a few 3D features he'd like to get going, and Jorge recently married Sandra Equihua, an incredibly talented artist in her own right. Suffice it to say, he has his hands full, and we can only hope, as the seasons come and go, that one of Jorge's hands is always holding a pencil.
AARON SIMPSON: Your first foray into computer animation was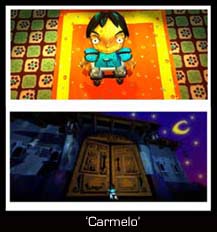 in 3D, and you wound up with a student Emmy for your Softimage-animated short 'Carmelo.' The bulk of your work since then has been realized in Macromedia's Flash software. What about Flash pulled you in?
JORGE GUTIERREZ: It was very punk rock! The amazing Roman Laney (Super Hero Intern) and I just dove in and got our hands dirty. Immediate gratification. I was right out of CalArts at that time and making a Flash short seemed the easiest way to get my ideas out there. 3D had been a huge nightmare as far as the learning curve and the expensive software/hardware. Since Roman and my passions in animation are story and design, Flash was a very liberating tool. To this day, everything I work on I try to get the Roman/Jorge band together.
AS: You're currently working on a Flash-animated show for Disney TV Animation. How has Flash character design evolved since you produced 'El Macho' with Sony Pictures Digital?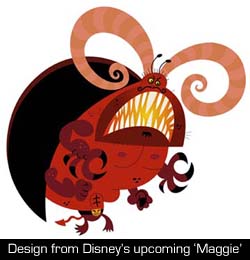 JG: Good design is just good design no matter what technique or software anyone uses. Just as bad design can't be saved by all the money in the world. On the other hand, when we made 'El Macho' we didn't know Flash at all, so I designed myself into a lot of technical problems. We quickly learned that flat, shape based and segmented design was clearly better suited than volumetric or more realistic designs. 'The Buzz on Maggie' is the second (after 'Mucha Lucha') Flash TV series I have worked on, so over the years I've picked up a lot of tips and techniques on how to get the most bang for the buck. Amazing artists like Mike Moon (first season of 'Foster's') have really pushed the envelope as far the technology side of a Flash show. The mouth and eye rigs out there are pretty sophisticated compared to what we all started with during the internet boom years.
AS: Do you design all of your characters on paper first?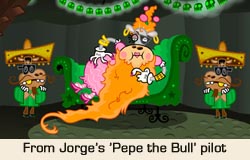 JG: Yes and when I don't they NEVER look as good and I end up having to redo them from scratch. Plus I think drawing becomes a luxury when you spend most of your time in front of a computer. Dave Wasson (our fearless, bad-ass director on 'Maggie') likes to look at character drawings first and that's when we really experiment design wise. I'm the character design supervisor and the other two designers are the amazing Katie Rice and Sandra Equihua. They should really be supervising me!
AS: Once you've scanned your images and imported them into Flash, what's next?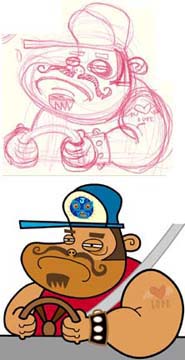 JG: We ink and do a color pass. Each designer gets to see their original drawing go all the way into finished production art. So if it looks awesome (or crappy) you are completely responsible. How's that for motivation?
AS: What's the trick behind building Flash-based mouth and eye comps?
JG: I think the trick is to have a really good traditional character animator do them instead of a designer. A designer's might look prettier but a mouth and eye rig will move so much better if a traditional animator goes all out. And shape tweening seems to be in now. And of course it all depends on the specific character.
AS: What advice can you offer to people who want to storyboard for a Flash project?
JG: Watch as many good Flash shows as you can. There really is a difference if the board artist is familiar with the strengths and limitations of Flash. There are amazing artists like Ricky Garduno and Gabe Swarr who have boarded on various Flash productions and when you see their episodes it shows.
AS: That's the end of part 1. Check back in soon for the second half of CHF's interview with Jorge Gutierrez.