A Masked Man For All Seasons, Part 2

Only days ago, I posted the first half of my two-part interview with Jorge Gutierrez, the man behind the macho. Let's dive right back in and see what's up with his pitch bibles, his 3D aspirations and his reverence for Blanka.
AARON SIMPSON: You've optioned and sold a handful of animated projects at the various Hollywood studios. Do you create your pitch bibles in Flash too?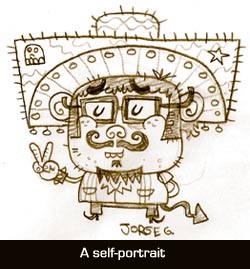 JORGE GUTIERREZ: I would write my scripts in Flash if it would let me. And yes, we create all our pitch bibles in Flash. That way I can easily e-mail them, print them or turn them into websites. And if the show gets optioned for a pilot, then most of the designs/models are ready for production. Plus, when I pitch, I like to show exactly what the cartoon would look like. Stay tuned and hopefully you'll see our latest pilot airing on a certain orange themed network…
AS: You work closely with your wife, Sandra, who is an amazing artist in her own right. What's the secret to a good working chemistry?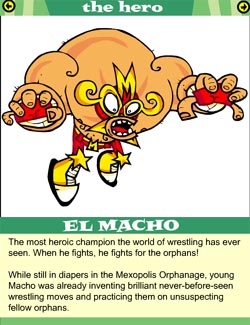 JG: Tequila, respect and patience for each other's strengths and weaknesses. We learned a lot from Lili Chin & Eddie Mort, the amazing and talented couple behind 'Mucha Lucha.' And the fact that we're both stereotypical, hot-blooded Latinos really makes things exciting. Much like a Telemundo soap opera. But seriously, I don't know why she puts up with me.
AS: Over the past few years, you've looked at 3D again to bring your animated pilots to life. Are you currently planning any 3D projects?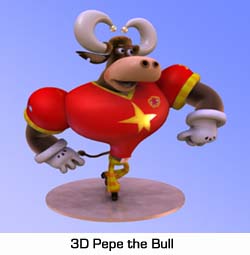 JG: I have two 3D feature ideas that I've been cooking for a while. As of today, I still think 3D is only good for features. TV budgets and schedules are just too demanding for a quality 3D show. But I still have so much to learn that I feel I can cut my teeth in TV for the next five to ten years and then maybe I could handle a 3D feature.
AS: You've recently put your design sense on a few products. What type of toy, clothing or product would you most want to offer to the public?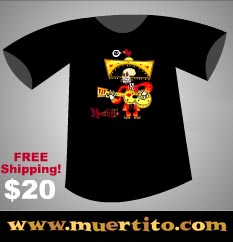 JG: It all started with a Super-Macho journal and a stationery set I designed (in Flash) for Dark Horse comics. Then we started a t-shirt line called Muertito.com (little death) and hopefully we'll be doing vinyl toys in the not-too-distant future.
AS: Where do you find inspiration?
JG: I'm a world pop culture junkie. My biggest inspiration is genre based world cinema. Sergio Leone's spaghetti westerns are my favorite films of all time. As far as artists who inspire me, Maurice Noble would be the single most inspiring person I ever got to meet and hang out with. And as an immigrant working in the US, I especially admire Genndy Tartakovsky.
AS: What animation DVDs are you currently playing?
JG: Ren & Stimpy, Popeye meets Sinbad, Nausicaa, The SpongeBob SquarePants Movie, Samurai Jack – Season 1, Cantinflas Show, Tom & Jerry, Samurai Champloo, Vampires in Havana and The Incredibles. City of God is my current favorite film.
AS: Tell us about your recent gallery piece.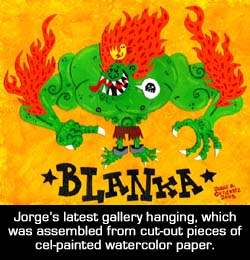 JG: It's for an art show curated by animation writer Jon Gibson called "I am 8 bit." The entire show is inspired by old school video games. I grew up loving 'Street Fighter II' so I just had to do a portrait of Blanka, the only South American character they had.
AS: Do you have any advice for students currently learning Flash animation?
JG: Flash is just another tool to make cartoons. Like all software, you will get better the more you use it. But you should first study the history, art and craft of animation and THEN learn Flash. Calm your rebel spirit enough to study the cartoons & films that you love and feel passionate about. Then try to figure out why you love them. Surround yourself with people who are more talented than you and LEARN. Never forget why you do this and honor the craft. And always have fun. Come on, you get to make cartoons!