Nicktoons Orders Shuriken School
French animation studio Xilam Animation recently received an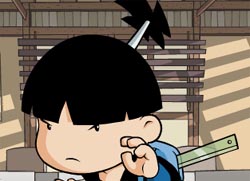 order from Nicktoons for a season of 'Shuriken School.' The show, which is aimed at kids 6-10, will be animated entirely in France and Spain. The story surrounding a 10-year old's first year at a Ninja school was originally conceived by Zinkia Entertainment, a design, animation and gaming company in Madrid, Spain.
The show isn't due to hit Nicktoons until 2006,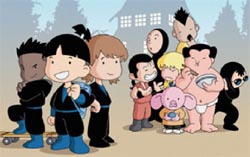 but thanks to the internet you have a few clips to whet your Flash whistle. First, there's a teaser over on the Xilam site encoded in the Windows Media format. And there's also three, brief, Flash-animated clips from 'Shuriken School' posted on the Zinka site (click on 'motioncrew'), which leads me to believe the series is being realized in Flash. 'Shuriken School' looks like a well-animated show, with highly-stylized photoshop'd backgrounds. I'm lumping it into the 'Xiaolin Showdown' and 'Airbender' young-ninja show group, but it gets bonus points for being animated in Flash.
Lastly, a little snooping around the web revealed a potential animation partner who seem to be working on the series – Gallego Bros Animation.