San Fran Flash Finalists
The Flash Film Festival 2005 San Francisco has

released the list of finalists for the various contest categories, including 'Cartoon.' The four 'Cartoon' finalists are:
AMAZING LIFE
Giuliano Parodi & Massimiliano Grassini's take on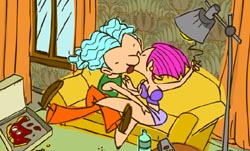 a life never traveled. With the click of a remote control, we watch as a young woman's life unfold before our eyes – all initiated by a single kiss. Her romance with the young suitor turns her house-bound existence into a drug-filled, raucous nightmare, and as she fades into her twilight, still sitting before her TV, she again picks up her remote control. Wonderful timing, great use of music, and some really clever moments make 'Amazing Life' a true standout in the competition. It's worth a few viewings, as I picked up little sight gags and funny expressions on my third and even fourth passes. The color palette is full of great choices, and the drab, bitmap wallpaper is particularly apt choice that perfectly sets the mood.
CANDY VENERY
This short was an award winner at the 2004 Ottawa International Animation Festival and is also in the running at April's TGSNT II festival. It's a fairly entertaining comment on the price of war, and the silly nature of what it is we're all fighting for.
PROWLIES AT THE RIVER
Also a finalist at TGSNT II, and a personal favorite of mine. I posted my brief review a few weeks back.
ANIMATED CLASSICS
Not one Flash-animated short – but four.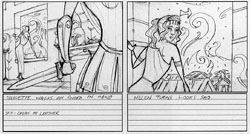 Faithful and accessible retellings of four undeniable classics – Shakespeare's 'Midsummer Night's Dream,' Homer's 'The Siege of Troy,' Dickens' 'A Christmas Carol,' and Carroll's 'Jabberwocky.' One interesting feature on the 'Animated Classics' site is the storyboard download link. Sure, most of the boards are a bit clunky, but for the novice, this is a rare look into the heart of the production process. For some reason, however, these links are placed under the 'grown-ups' tab, somehow protecting artistly-minded children from the seedy world of animation pre-production.
Make sure you head over to the People's Choice site to cast your votes, and check back for the results on April 7th.
There are no comments yet, add one below.