Space Ghosts, Part 1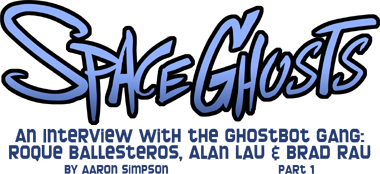 Deep in the outer reaches of space, three artists toil at their holographic computers, striving to unite the cosmos by making the best animation the universe has ever seen. Or, how about this – a stranded space shuttle mission has marooned three of Earth's most creative minds in a vortex filled with rows of expensive, animation-friendly G5 computers. Hmmm… that one's not so good. Maybe they're just three extremely talented animator buddies who like robots and the independence of a start-up. Whichever way you look at it, the three minds behind Ghostbot, Roque Ballesteros, Alan Lau and Brad Rau, are mysterious. I know them only by their work, the following interview, and these bad-ass 'bot headshots.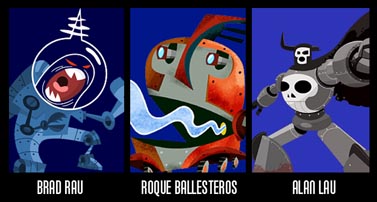 What I do know is that this animation company brings together some of the sharpest animators in the San Francisco Bay-area, who also happen to know a thing or two about Flash production. Their nimble robot fingers have helped along many a Flash-animated project, such as 'Happy Tree Friends,' 'Joe Paradise,' 'Penelope Pitstop GT,' 'The God and Devil Show,' 'Thugs on Film,' and the anime-inspired 'Hong Kong Phooey' update.
Let's find out how it all started, what they're currently working on, and perhaps, along the way, a bit of the mystery surrounding this talented triumvirate from outer space will be removed.
AARON SIMPSON: What's the story with Ghostbot?
ROQUE BALLESTEROS: Ghostbot is the animation studio that Alan Lau, Brad Rau, and myself formed back in July 2004. It started with the three of us realizing that we worked really well with each other and that our combined efforts always looked better than what either one of us could do individually. Right now, it's just officially us three, but we call upon our local Bay Area pals to jump in and help us out from time to time.
AARON: How did you guys first discover Macromedia's Flash software?
ROQUE: I was first exposed to Flash when I pitched Joe Paradise to Wild Brain. The execs liked the property but weren't sure how it would fair in a predominantly kid-centered TV market. It just so happened that at the same time, they were developing original content for their website, using Flash as the main program.
BRAD RAU: I held out as long as possible until I accidentally tripped, fell, and turned it on. Immediately I thought, holy mackerel, this is one powerful animation program.
ALAN LAU: Kenn Navarro (creator of the Happy Tree Friends) gave me a 2 hour crash course in Flash. I went kicking and screaming, but grew to love it over time.
AARON: Roque, what about your show 'Joe Paradise' lent itself to Flash production?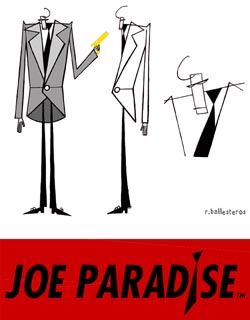 ROQUE: I think the design of Joe Paradise definitely helped it succeed in Flash. I designed the show very graphic, using lots of flat simple shapes and limited colors. At the time, I didn't know what performed best in Flash so it was definitely a bonus how that worked out. Also a lot of Joe was "inferring paranoia" vs. actually spelling everything out, so the level of animation was pretty limited and we relied a lot on filmic devices and camera work.
AARON: I love the Esurance ads. Are they produced in Flash?
ROQUE: Alan is the man-behind-plan on those ads so I'll let him speak on them…
ALAN: Yes, the Esurance ads are done in Flash. If you have to ask, then it means we did our job! Phil Robinson at Wild Brain directed the overall spots. Boards, character designs and animation were done by me. Brad did animation and layout, while Roque did the sassy backgrounds.
AARON: In recent months, what else has Ghostbot been producing with Flash?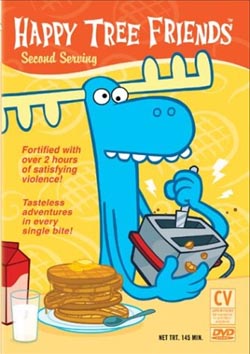 ROQUE: We've been working on a number of Flash projects for Mondo Media, including their hit internet/DVD series, Happy Tree Friends, and some jobs they are producing for Yahoo!. We also worked with Leap Frog (our former employer) on Flash animation for their Leapster Multimedia Learning System. Last year I directed a music video for a band called "Five Iron Frenzy" produced in Flash for their song "Wizard Needs Food Badly".
ALAN: We just finished working on Happy Tree Friends Winter Break for MTV. Also I was lucky to direct a special DVD episode of Happy Tree Friends titled: Buddhist Monkey "Books of Fury"
AARON: Compared to an animated web cartoon, how is your Flash production method different when producing for broadcast television?
ROQUE: Well for starters, the frame rate is usually higher (24 fps). For Joe Paradise, we were always animating at 12 fps because of bandwidth and memory. In broadcast, you don't have to worry about file size or speed of download. Instead, you're just focusing on making the coolest looking thing possible. When we see stuff we've done in Flash on the TV screen, it always takes on a different life. I know for myself, I always have to keep in mind when I'm designing for broadcast that the audience will probably not be sitting 10 inches away from the screen. It affects how you design things, what colors you choose, how much detail you add/subtract, etc.
BRAD: We usually try to do as many unique poses/keys as possible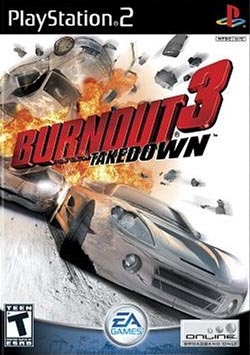 on paper before creating the vector artwork. In some cases, going so far as animating roughs traditionally, then scanning them in to be used as guides for puppeting.
ALAN: Budgets are often a little better for TV allowing for higher standards of animation. Also, without the limitations of file size, it allows you to make a more robust flash file. A lot of times on games or web stuff, you need to really make sure not to go too crazy with the flash symbols. Otherwise it will play back poorly.
AARON: What other software do you use when you're designing backgrounds?
ROQUE: I use Photoshop quite a bit for painting and adding texture to backgrounds.
BRAD: I use a great program called "Burnout 3" for the PS2 while Roque is designing backgrounds.
——————
Transmission of Ghostbot interview, part 1, is now complete. Return soon for the second upload.