The Evolution of Flash, part 2
Last Wednesday's 'The Evolution of Flash' event at Cartoon Network
was a big success, and I'd like to thank Jan Nagel of Women in Animation and Heather Kenyon, Cartoon Network's Senior Director of Development/Original Animation, for the invite.
The discussion was kicked off by the origin story of JibJab Media by Evan Spiridellis. Evan and his brother Gregg started their animation company back in 1998 after finding inspiration in one of John K's web shorts that featured a dancing doodie. Their rise to animation glory is well documented now, and Evan's inspirational speech last week defines what Flash animation is all about. The two brothers currently have a team of 6 working out of Santa Monica, but most of their work was created between the two of them. Their work has now been on The Tonight Show and most major networks interviewed them during last year's presidential election.
Ashley Postlewaite runs Renegade Animation out of Glendale, California, and she spoke to the 60 or 70 attendees about running a domestically-animated Flash series – in particular 'Hi Hi Puffy AmiYumi' for Cartoon Network. It's great to see so much work being kept state-side and I look forward to many more 'Puffy' seasons to come.
I chipped in with a brief presentation on getting an animated TV show off the ground. I discussed producing a pilot for testing; building flash turnarounds that include eye and mouth comps; using Adobe Illustrator for digital cleanup; and how animatics are used as underlays for the actual animation.
Alx Meza, a very talented Flash animator, discussed the intricacies of animating with the software. He's worked on some of the best and most successful Flash shows, including 'Mucha Lucha,' 'Foster's Home for Imaginary Friends,' 'Kid Notorious,' and now 'Hi Hi Puffy AmiYumi' with Ashley over at Renegade. Alx is also one of the animators I mentioned last week in my 'Cold Hard Flashback' piece.
Clifford Parrott, the author, Producer and Director who penned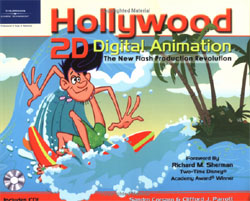 'Hollywood 2D Digital Animation,' a highly-regarded instruction manual that's a must for all of you interested in bolstering your Flash skill set. Cliff gave an insightful speech regarding setting up a home studio, and what that entails. He discussed software, computers and how to teach yourself the skills you need to run your home animation shop.
Thanks again to the hosts, and to those in attendance. I hope you enjoyed the presentation, and best of luck with your own Flash projects!
There are no comments yet, add one below.