The Kenn Commandments, Part 1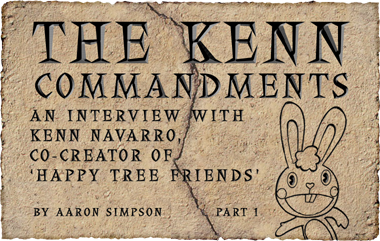 COMMANDMENT I: Thou Shalt Not Rush In Head First
Remember Pop.com? It was Dreamworks' planned web portal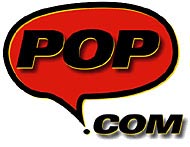 that was to act as an incubator for live-action and animated properties. Steven Spielberg, Jeffery Katzenberg and Ron Howard scuttled their plans in 2000 after spending $7 million and never streaming a single webisode. In Hollywood circles, Pop.com's failure has become emblematic of the hype and flailing confusion that permeated the turn-of-the-millennium dotcom scramble. It just so happens that one of the shows ordered for Pop.com's launch was a little Flash-animated show from San Francisco's Mondo Media called 'Happy Tree Friends.'
Pop.com was touting a roster of talent that included Jim Carrey, Eddie Murphy and Mike Myers, all of whom were on tap to produce the internet's first big entertainment hits. None of these online efforts were ever realized, with the exception of Steve Martin's 'Morto' and a few odd shorts from Ron Howard's brother Clint. As Pop.com handed out pink slips, the rights to 'Happy Tree Friends' reverted back to John Evershed at Mondo, and he and the creators of the show, Kenn Navarro and Rhode Montijo, decided to go it alone.
COMMANDMENT II: Honor Thy Cult Following
Dozens of episodes and 3 DVD releases later, 'HTF' is a bona fide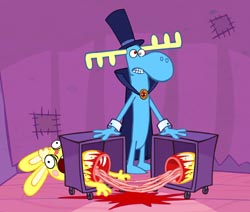 entertainment blockbuster. It's controversial, it's contagious and due to its complete lack of dialogue, 'HTF' is immediately portable to any country or culture. Mondo has a licensing program that's spawned a slew of products ranging from stickers to shoelaces; the DVDs have sold approximately 500,000 units; they stream 15 million HTF episodes each and every month and MTV International airs the bloody mayhem weekly to over 350 million homes. According to Mondo's Marketing Director, Christina Chavez (who is also an Associate Producer on 'HTF'), a new line of merchandise is due at the end of the year, and a DVD box set is due in October, so the 'Tree Friends' are about to get even happier.
This same allegory of internet success is evidenced in the rise of 'Homestar Runner,' Newgrounds, and Jib Jab. It wasn't the big Hollywood conglomerates breaking out with big Hollywood names attached – it's the little guys patiently brewing cult hits in cities like Atlanta, San Francisco and Philadelphia.
COMMANDMENT III: Thou Shalt Pay Homage to the Creator
Kenn Navarro has seen the whole story play out from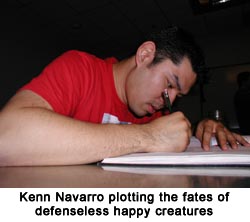 the most humble of beginnings. Hired at Mondo to flesh out some of the very first online Flash shows, he wound up co-creating the hysterical, gory madness that is 'Happy Tree Friends.' Let's check in with Kenn and see how he and his crew make an episode, what's in his DVD player and what piece of equipment his friends call 'precious.'
COMMANDMENT IV: Read
AARON SIMPSON: When did you realize that HTF was an internet hit?
KENN NAVARRO: It was probably the day we got numbers back about traffic and show views. I was expecting two people to watch, but when the report came back in the millions… I knew instantly that there were more crazy people out there than I had originally thought!
AS: What were your expectations for the release of the first HTF DVD?
KN: We had always known that there was a crowd out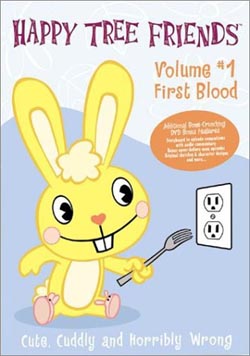 there enjoying 'Happy Tree Friends,' but I did not imagine how rabid that crowd was. I always thought after the DVD sold a few hundred units that we would move on to the next project; but to our surprise people really loved it and bought into it. It was just amazing!
AS: How big is the team that produces HTF?
KN: It's actually a pretty small team that grows and shrinks depending on the workload. It starts with myself, writers Warren Graff and Ken Pontac, and maybe 2 to 4 other guys sitting together sipping juice, eating cookies and making each other laugh. Some of the writers are also animators and there will be 2 to 6 animators on a given episode. We also have a great colorist, Jenny Hansen, that does all the color stylings, and Jim Lively our "army-of-one" sound designer.
AS: How does the animatic stage of your production process work?
KN: Once we get all our Flash assets done based on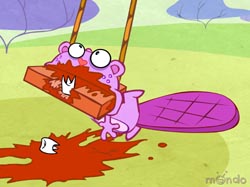 the storyboards, we'll do a rough layout in Flash which then gets colored. This file serves as the master template for the episode that then goes to the animators to do a tighter animatic with all the major beats and poses, scene by scene. Then we go play some video games and wait for the computer to "ding" when all the animation is done. I heart technology!
AS: The timing throughout the HTF series is very solid – describe how the final timing of an episode comes together.
KN: Thanks! A good watch helps for sure! A lot of the comedy that we mine in 'Happy Tree Friends' is timing related. We try hard to make sure that it comes across the right way. Most of the gags are worked out in storyboards and the animators bring a lot to the table when they animate the characters. After it all comes back, I'll usually spend a couple of hours nipping and tucking here and there to make sure everything cuts the way the voices in my head tell me.
AS: When you or another writer first conceives an episode idea, what's the process for getting the show into pre-production?
KN: Since the characters don't speak any discernable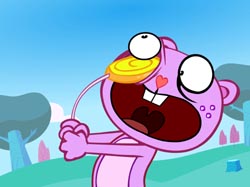 language, we've found that writing a traditional script is a great way to waste good drawing paper. So, what we'll do instead is jot down the beats from a brainstorm session. If I'm doing the storyboards then I'll need to take down some notes on how the events unravel, or I'll sit down with the storyboard artist(s) and pitch him/her/them the concept. We'll work through a lot of the heavy lifting that's associated with telling the story in this phase. Since there's no dialogue, it's even more important that we make the staging and layout read as clearly as possible so everyone understands what's going on. Then it goes to asset creation and coloring.
AS: Is any artwork drawn straight into the computer with a tablet? Or is everything drawn on paper?
KN: In the early days we used to draw assets on paper, scan them in, bring them into Flash and use the "Trace Bitmap" feature to vectorize the artwork. However, we've found that doing them directly in Flash with a drawing tablet is much faster and gives us more control over the lines and saves valuable clean-up time.
AS: Has anyone at Mondo begun working on Wacom's Cintiq pressure-sensitive monitors?
KN: No, we're still in the stone age of Wacom technology. I do have friends that have those fancy new monitors and they can't stop talking about them. For some reason, they've started calling them their "Precious". Creepy…
AS: Your backgrounds look like bitmaps. How does the BG design process work on HTF?
KN: Backgrounds get roughed in the storyboard phase, but get fully fleshed out when we do the Flash assets. To get that bitmap look, we actually cheat! There's a bitmap of a scanned paper texture we overlay on the BG. This bitmap is tinted and the opacity reduced just so it's a subtle texture. It gives the BG a nice hazy, unified look and really makes the characters on the top layers pop. Makes the blood look especially crispy too!
AS: When you first saw HTF rendered for DVD, did you notice any differences when compared to the online version?
KN: Well we had a little learning curve to go through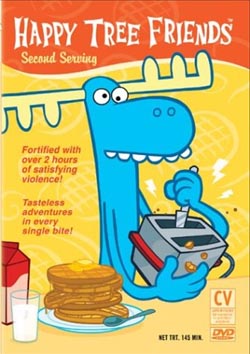 in converting Flash files into a DVD format. There was no real precedent when we first started doing it, so there were no resources to pull from. There was a lot of trial and error in building the pipeline. The biggest difference is the frame rate. We were going from 8 fps in our early shows to 29.97 fps for broadcast. I still cringe a little watching those early episodes, but I guess it's like that for all artists… we can all see the mistakes! We've learned a lot since then and technology has certainly caught up and the process is much smoother and looks so much better!
AS: How long did it take to record the DVD commentaries for each release?
KN: We probably did about 2 to 3 takes on each commentary, all the way through, and picked the one that made us laugh the most and got in the least amount of trouble… and we ran with those.
AS: Are you guys Mac or PC or both? And what dictated these decisions?
KN: Primarily PC, except for our sound designer who is on a MAC. Either way, we crash just as often!
COMMANDMENT V: THOU SHALL RETURNETH SOON
Check back soon for the second half of my interview with Kenn Navarro, co-creator of 'Happy Tree Friends.'