Aaron Augenblick, part 1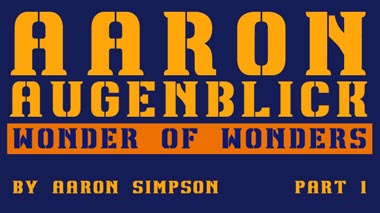 In the run-up to the millennium, Aaron Augenblick was still in college and he was furiously creating independent animated shorts. It paid off in 2000 when his short 'Midnight Carnival' was chosen to play at the Slamdance Film Festival. Since then, Augenblick Studios has been producing a mixture of excellent work-for-hire projects, home-grown shorts and co-productions.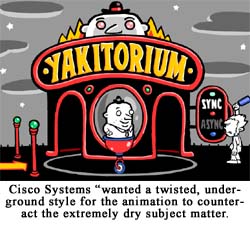 They started with three networking tutorials for Cisco Systems in 1999, and followed those with two original ideas, 'Ramblin' Man' in 2000 and 'Drunky – In Through the Out Door' in 2001, which both received critical praise and festival nods. Then Gettosake Entertainment hired Augenblick Studios to design and animate 7 trailers for their urban-themed comic properties, including 'Venus Kincade' which is currently set up at Fox 2000 with a live-action feature script in the works. The list continues – Patrick 'Transfatty' O'Brien and Augenblick studios teamed up on a series of shorts with perhaps the longest title in modern history – 'The Man with the Smallest Penis in Existence and the Electron Microscope Technician Who Loved Him.' And throughout this blossoming period, Aaron refined his look and continued to experiment with unique styles. And by 'unique,' I mean he blends Max Fleischer, David Lynch and Mad Magazine into a devilishly entertaining brew.
And let's not forget that Aaron and the gang have also been on the vanguard of the Flash animation revolution.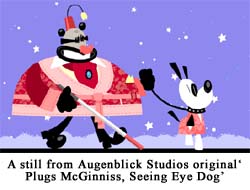 They were amongst the first, along with John K's Spumco team and Renegade Animation, to make Flash look like it wasn't made on a Fisher-Price 'My First Animation' toy. They shoved armfuls of drawings into the program, added timing, comic book shading, extremely progressive music by Bradford Reed and out popped shorts like 'Plugs McGinness,' an adults-only romp through Bumtown with a boozy, bong-hitting dog and his clueless, blind master.
This takes us up to 2002, about the time Augenblick went big-time. Since then, Augenblick Studios has been working on animated shows for Nickelodeon ('Moomie's Garage'), Comedy Central ('Shorties Watchin' Shorties') and MTV2, who now host the demented, guilty-pleasure show that I can't stop watching called 'Wonder Showzen.' The show is mostly live-action puppetry, but for my money, the Augenblick Studios' animated segments are the reason it's become an underground hit. The spot-on parodies of 'Jonny Quest,' 'The Care Bears' and 'Bratz' show an extreme attention to detail as everything from the timing to the color palette are faithful to the original period and piece. It's work any studio would kill for, and Aaron is now capitalizing on the experience and extending his relationship with MTV Networks.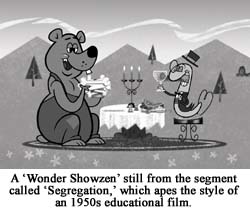 MTV's LOGO network aimed at gays and lesbians, which bows this summer, will be airing an interstitial animated promo produced by Augenblick Studios. So it's safe to say the rent is being paid out in Brooklyn.
But don't think for one second that Aaron has forgotten about what started it all. As I write this, he's hard at work on more original projects than you can shake a stick at. Aaron has surrounded himself with talent like Kevin Lofton, Joy Kolitsky, Jeremy Jusay, Jared Deal and M. Wartella, which never hurts when you're building an empire. So don't be surprised when you read about an original animated TV show (or 3) emanating from a relatively small shop out of Brooklyn.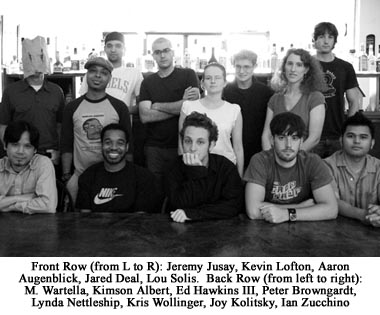 AARON SIMPSON: You're a well-known connoisseur of classic animation from the likes of Ub Iwerks and Fleischer Studios. Your work on MTV2′s 'Wonder Showzen' nods to so many sources from animation history – was this a dream opportunity for you?
AARON AUGENBLICK: Absolutely. I have always loved classic cartoons and ripped them off endlessly in my personal and professional work through the years. In 'Shorties' we got a taste of experimenting with different styles and eras in several segments we did, but it was anchored by the overall style of the show. In 'Wonder Showzen,' we wanted to create authentic looking cartoons that could possibly fool the audience into thinking they were watching an old animation. The show has a good deal of actual archival footage, so I knew that if something looked modern and phony it would stick out like a sore thumb. So we dove headfirst into replicating the exact look and style of whatever era the cartoon called for.
SIMPSON: In your 'Wonder Showzen' research of various animation styles, did you come across any new sources of inspiration that inspire you?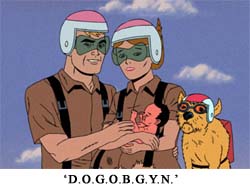 AUGENBLICK: We had to do a fairly realistic 'Jonny Quest' style for the 'DOGOBGYN' segment – that it took me by surprise. I was a little nervous about trying to draw that heroically, as it was never a style I was ever really into. But once I started, I really got into it. Especially the super-realistic dog. That was fun. I had no idea I could draw like that.
SIMPSON: Do you use After Effects in your animation pipeline?
AUGENBLICK: Yeah. It really helps to do your final tweeking in after-effect. Anything to avoid the cold, vector look of Flash.
SIMPSON: Can you explain the animation process your team employs on the 'Wonder Showzen' shorts?
AUGENBLICK: We try to keep it very simple and personalized. We draw all of our artwork directly in Flash with Wacom tablets. We start the process by having our storyboard artist create an animatic with the dialogue track for the segment. After the animatic is complete, the background artist lays out all the backgrounds and props. Then, the key character poses are drawn by the character artist. Then, the animator takes all of the character and background elements and animates them. The animator has an animation assistant who does a lot of traditional inbetweening, clean-up, and animation. Lastly, we bring the entire project into After Effects where we fine tune the visuals, add effects, and lay in the final audio. We usually have two teams working concurrently.
SIMPSON: Do you have a favorite 'Wonder Showzen' animated segment?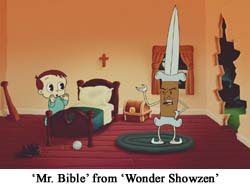 AUGENBLICK: Well, the 1940s Fleischer influenced 'Mr. Bible' was an obvious favorite. Really jumping into that era and tearing it apart was a blast. I also find it really funny. Integrating the cartoon Ginger Bread Man into the historical footage was really difficult, and I was happy with the finished product.
SIMPSON: The first 'Drunky' short was simply amazing, and the awards it picked up were surely well deserved. What can you tell us about 'Fish House Punch,' the second installment in the series?
AUGENBLICK: 'Fish House Punch' follows Drunky's rise to fame as a sideshow geek in a traveling carnival. Geeks were the drunks they kept in cages, biting the heads off of live chickens for free booze and shelter. It's quite an epic; longer than our usual shorts with a full original score by Bradford Reed. I wrote the script about two years ago, but production has been impeded by all the recent freelance work. I swear it will be finished this year.
SIMPSON: Do you have more 'Drunky' shorts in mind after this one?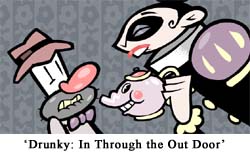 AUGENBLICK: I have a book of hundreds of ideas for 'Drunky' stories. Some are fully written scripts, and some are gags and ideas.
SIMPSON: Where does 'Bitz and Pieces' currently stand at Cartoon Network?
AUGENBLICK: 'Bitz and Pieces' has been in development hell for the past year. It's been hard, but I'm still confident that we will get the concept to a point where we can go into production on the pilot very soon.
SIMPSON: What happened to 'Shorties Watchin' Shorties?'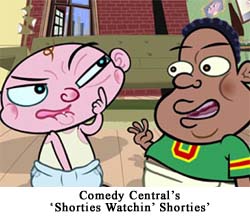 AUGENBLICK: 'Shorties' has been officially cancelled. I admit the show was pretty bad, which I blame on the usual network bullshit. The creator of the show, Eric Brown is a brilliant, talented guy who got really screwed. We had a great time making it, and created some segments I'm very proud of. I spit on the grave of those two babies.
SIMPSON: You mentioned that your team didn't use traditional model sheets on that show – is this because there were so few re-occurring characters?
AUGENBLICK: 'Shorties' had thousands of characters, so designing each one would have added too much time and money to our schedule. The characters and backgrounds were designed in the storyboards. However, 'Wonder Showzen' had their own in-house designer who usually sent us an overall design sketch for each segment. On personal projects, I spend a lot of time designing my characters.
That's it for now – check back soon for the 2nd half of the Cold, Hard Flash interview with animation guru Aaron Augenblick.