Flash Bunnies Become STARZ!
Jennifer Shiman's bunnies have hopped off the web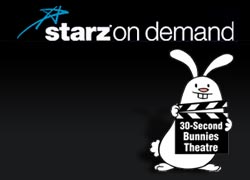 and onto the premium movie channels. Back in the Fall of 2004, Jennifer Shiman's 30-second bunny movie parodies were tapped by the Starz Entertainment Group to create original shorts for STARZ!, Starz on Demand and STARZ! Ticket. Ten more shorts have been ordered since, and now Starz has created a bunny landing page over at starz.com.
If you haven't seen Jennifer's bunny shorts yet, I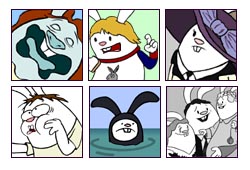 recommend starting with Jaws in 30 Seconds, or The Shining in 30 Seconds, which won first place in the Internet Series category at the 2004 Ottawa International Animation Festival. They're extremely clever, and her website traffic offers proof of the shorts' viral nature – she receives over 25,000 visitors a day at angryalien.com.
Over at her website, Jennifer posted a breakdown of her method:
I use Flash for the coloring and animation. Prior to that, I usually draw everything by hand on paper using a lightbox. I scan the drawings in using Adobe Photoshop, then convert the bitmap art to vector art using Adobe Streamline. This system works nicely for me; I'm sure all Flash artists have their own preferred way of doing things.
Next up on STARZ!, Jennifer's take on 'Highlander,' 'The Big Chill' and 'The Rocky Horror Picture Show,' which premieres in July. In the meantime, check out this recap of Jennifer's appearance on The Screensavers, or watch a 15-second STARZ! promo (Windows Media).