Flash Showcase on CBC
First Nicktoons broadcasts a dozen Flash-animated shorts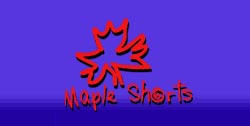 during the Nicktoons Film Festival, then YTV airs a mostly-Flash-animated film festival called Funpak. Now the Canadian audience is getting treated to CBC's Maple Shorts animation festival, a Flash showcase for Canadian artists. The project premiered back in April, and is currently airing in half-hour blocks at 4:30pm on Wednesdays. A total of 40 shorts will air during the festival, but you, the lucky internet viewer, will be able to watch them all on the Maple Shorts website.
March Entertainment, the Toronto-based company behind the Flash-animated 'Chilly Beach' series, produced the festival, screening the submissions, editing if necessary and assembling the animated blocks.
I spotted a few familiar names in the contest, in particular Steve Whitehouse, whose 'Mr. Man' played during the 3rd week. I also spotted plenty of work by Paul Gill, who founded Zodiac Media, the Canadian company that once produced the Maple Shorts festival. Paul died two years ago, at the age of 28, but his legacy lives on through his shows, which are peppered throughout the festival – 'Victor vs. Victor,' 'Suburban Samurai,' 'Max Soul' and 'Formula for Disaster.'
Best of luck to all in the competition, and for those in Canada, don't forget to tune in Wednesdays at 4:30pm on CBC.
There are no comments yet, add one below.