France Flash Fest
On May 28th and 29th, the Centre Pompidou, situated in the

heart of Paris, will open its doors to the French-speaking Flash community. Focusing on both interactive and linear projects, the Flash Festival en France is a working on the theme of 'intimacy and net art.' Mike Chambers, a Flash product manager from Macromedia, will be speaking at the event about the next release of the software – Flash 8.
It's the fourth annual competition amongst French Flash artists, and this year's Animation category offers up three linear shorts. The first is 'Reve de Canne' by Jisuk Jung, which is a beautifully drawn piece set to music that seems to illustrate the lyrics. Jisuk uses Flash more as an ink and paint tool, and he also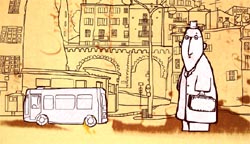 brings in bitmap BG elements to give this piece a more organic feel. My technical eye can't help but notice several animated cycles that pop, some fairly harsh pans and transitions, and the recurring '100% loaded' text that revisits near the end of the short. All that aside, 'Reve' is full of beautifully rendered BG's, painstakingly drawn etching-style sequences, and an overall stylish appeal. I wish I understood French, because the story is a bit lost on me.
The second is a dialogue-free piece called 'Vuccumpra' by Julien Attard.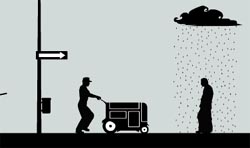 This scrolling, silhouetted short focuses on a man from what we assume is a company called Vuccumpra, who takes his wheeled cart full of helpfulness out on the prowl. After leaving his company truck, he disperses a variety of helpful items to those in the city, but all for a price. This tightly-executed short has the look of an airplane safety manual, and the message feels just about as simple.
The third finalist, 'Suicid,' is from an artist known as Incorect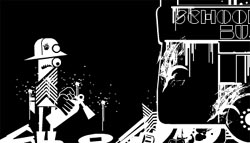 (whose name I believe is Emmanuel Marion), and in my opinion it's the standout in the competition. The story and animation are simple enough, and might even pass for 'clever.' But it's the overall experience that really grabbed me. The title sequence is your first hint, and other touches like the unique sound-effects and the extremely progressive character design make for such a wholly satisfying experience. I recommend checking out more from Incorect, in particular 'Tic Toc,' which can be seen at the incorect.com.
Best of luck to all in the competition!
There are no comments yet, add one below.