JibJab Tapped By The King
JibJab, the Santa Monica-based creators of the phenomenally successful political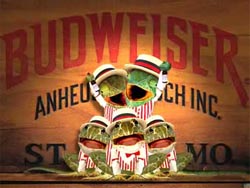 spoof 'This is Your Land,' have landed an online promotional deal with beer giant Budweiser. The Flash-animated spot, which features Frankie and Louie, the Budweiser lizards, is now available for viewing at the JibJab homepage and at budweiser.com. Gregg and Evan Spiridellis, the founders of JibJab, are back to doing what they do best – creating snappy, musical animated shorts with catchy lyrics. But the release of the 30-second online spot, dubbed "Roll Out," is supposedly just the beginning. An article in the St. Louis Post Dispatch calls this the 'sneak preview of the things we're going to do down the road.' I read elsewhere that these spots may end up on TV too.
Also check out the recent interview with Gregg over at MarketingVOX, a great resource that focuses on online marketing, where he drops hints of movie deal and television pilot discussions.
There are no comments yet, add one below.