Renegade Goes From Puffy to Puffs
Glendale-based Renegade Animation has gone cuckoo. Earlier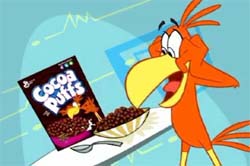 this year, General Mill's cereal-loving mascot Sonny was lovingly animated for a brand new Cocoa Puffs TV spot. The 30-second ad features a redesigned Sonny model, which was also done by Renegade, and the team relied on Flash to deliver the appropriate look for this spot titled 'Mr. Parrot.' This isn't anything out of the ordinary for Renegade. They've been pushing the Flash envelope for years now, and you've enjoyed their work on Cartoon Network's 'Hi Hi Puffy Ami Yumi.'
While 'Puffy' relies a great deal on re-use, this Cocoa Puffs spot contains a much heavier dose of drawings. In this situation, Flash becomes a turbo-charged ink and paint program. Wait – why don't I let the press release explain:
Renegade employs Flash animation to expedite parts of the animation process while still relying on traditional cel technique to create the animation's rich look and to give the character motion its fluidity. "Flash allows us to reuse assets and that speeds up some of the more routine aspects of the animation process," said Renegade Animation director Darrell Van Citters. "But for us, Flash is more than a practical tool. We have integrated it into our creative process and take advantage of its strengths to enhance the aesthetics or our work."

One way Renegade capitalizes on the unique qualities of Flash animation is by using it to introduce design elements into their animation. The environments in the Cocoa Puffs spot are highly stylized and dominated by geometric shapes. Renegade uses Flash techniques to change the environments' color or shape, to evolve them, or to cause them to melt into kaleidoscopic patterns reflective of the swings in Sonny's mood. "The background effects that we are able to achieve would be difficult to replicate using cel technique alone," (Renegade Animation director Darrell) Van Citters said. "At the same time, we are able to retain artistic integrity and quality."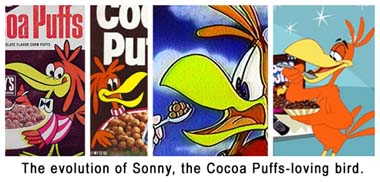 I spoke with Ashley Postlewaite, Executive Producer over at Renegade, to learn a bit more about their pipeline. She explained that the Renegade team uses DigiCel for pencil tests, then the drawings are cleaned up, scanned, run through Adobe Streamline and then brought into Flash as vector art. It's luxurious when compared to the type of methods applied to a TV production, and one that surely comes alive on screen. Check out the spot here (Quicktime).
There are no comments yet, add one below.