Disney's Buzz Starts Tomorrow
'The Buzz on Maggie,' a Flash-animated original from Disney Television Animation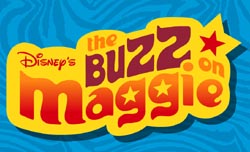 is set to premiere. Tomorrow night, June 17th, at 8pm/7c we get to see the newest Flash show on the Disney Channel. Congrats to the cast and crew – including Jorge Gutierrez, Sandra Equihua, Roman Laney, Gabe Swarr, Ricky Garduno, Ray Morelli, Tim Yoon and the director and Executive Producer, Dave Wasson.
Related Posts
The latest episode of Gabe Swarr's long-running Life In The Analog Age series takes place after the dinner table has been cleared. It's titled After …

The playground and legal contracts don't often find themselves in close contact, but in the latest episode of Gabe Swarr's Life In The Analog Age, …

October 31, 2012

by

aaron

Gabe Swarr's childhood home had an unusual floor plan, creating some unexplained spaces. It's the topic of a creepy installment of his web series Life …

One of my childhood pals landed the mother of all toys when we were 13 – the GI JOE U.S.S. FLAGG. The 4 foot long …
There are no comments yet, add one below.