Finalists at NYC Flashforward
The finalists in the Cartoon competition have been announced for the 14th Flash Film Festival, an online competition. The awards are part of Flashforward2005, and the big winner will be crowned on July 7th in The New Yorker Hotel. The four films in the competition are:
Learn Self Defense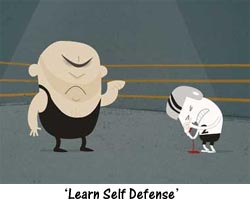 by Chris Harding
Chris is a Cold, Hard Flash regular, and his career and techniques were chronicled back in February of this year. Chris offers this synopsis of the 5-minute 'Learn Self Defense' on his website – "After being brutally attacked in an alley, George decides he must learn to protect himself. A cocksure narrator walks him through five practical lessons of self-defense for the citizen on the go– or nation-state on the rampage!" This short is not available on the web, but Chris gave me an opportunity to watch the film and it's simply excellent. 'Learn Self Defence' is slick, stylized and irreverently funny. Check out clips on Chris' site, and while you're there Coming into the Flash Film Festival, Chris is on a roll, having just won the Best of the Fest award at the 2005 Kansas City Filmmakers' Jubilee.
The Adventures of Mr. Coo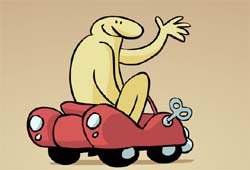 by Nacho Rodriguez
Nacho lives in Barcelona, Spain, and he's animated one of the most entertaining Flash shorts in recent memory. Mr. Coo, a large-nosed, shape-shifting blob, finds himself being chases by his own paper airplane, a savage chair and a toilet that acts more like a xerox machine. There's an enormously high drawing count in 'The Adventures of Mr. Coo,' and it's almost hard to believe it was all animated by one man. The 25-year old Rodriguez also has extremely strong timing and imagination – he's essentially Spain's answer to animation autuers like Don Hertzfeldt and Bill Plympton. I simply love this short, and I can't wait to see the next in the series, which is reportedly under way.
Manege Frei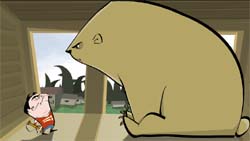 by Dyrdee
'Manege Frei' is a contemplative Flash short that acts as a metaphor for what we want and what we actually end up doing to get it. 'Manege Frei' was animated at the German Urban Design and Communicatiosn company Dyrdee. It's beautifully designed, and animated quite elaborately. The painted bitmap grass texture adds a nice touch, and the linework is gorgeous. The lighting, the shadows, the color palette – there's so much to love, I recommend you just stop reading this now and watch.
Taggerz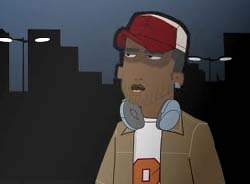 by Jamie Cason
'Taggerz' is an episodic Flash-animated project that follows the Ruffneck Crew, a group of UK graffiti artists. The website offers the following tag – "When your crew is your family, you better hope they've got your back." 'Taggerz' is behind a firewall on the BBC site, but it only takes a minute to sign-up, and a working email doesn't seem to be neccessary.
Now that you've watched them all, head on over to the Flash Film Festival site and vote on your favorite. Best of luck to all in the competition.
There are no comments yet, add one below.