Foreign Office Flash
Whilst surfing the old internet this week,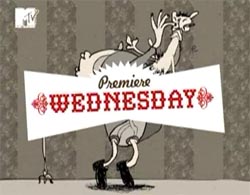 I stumbled onto an animation house that seems to have a taste for Flash. Foreign Office is a "graphic design and moving image company based in Notting Hill, London, UK." Foreign Office was formerly known as 4K, and they've recently completed a music video for the band No Hope, which can be seen here. Also check out the animated 'Premiere Wednesday' promos they created for MTV UK back in January of this year. Great work, guys.
Related Posts
Both Flash and Toon Boom were used in this new title sequence for the upcoming 2015 season of Britain's Got Talent, which airs on ITV. …

February 20, 2015

by

aaron

Charlie Swan Pullin produced this new music video for the track titled Doo Dah Dayo by Roger Cook. Proceeds from the downloads of the audio …

Steve Scott recently directed this super-stylish spot for the luxury shoemaker John Lobb. The lighting, design and layouts are all laced up so beautifully, you …

Oliver Hamilton's 2013 student film, titled Anorak, follows a pig on the trail of evil kidnappers. While he may look like he's from the Peppa …
There are no comments yet, add one below.