Jonti Picking is Viral
Cold, Hard Flash has given all too little attention to Jonti Picking. That nonsense stops here.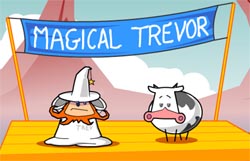 If Jonti's name doesn't ring a bell, maybe you're more familiar with his animated series 'Weebl and Bob,' which has aired on MTVUK under the name 'Wobbl and Bob,' due to an unfortunate coincidence with a Hasbro toy called Weeble. The egg-shaped duo is a massive success, and one that has also spawned a DVD release and a series of TV adverts for Anchor Butter. Picking, who often goes by the web-handle 'Weebl,' was animating from home while working at a web design firm in the UK when his personal work simply took off. It was his 'Badgers' short that started Jonti down the path to creative independence, and he has since started his own animation company, Sumo Dojo.
At the ripe old age of 28, Jonti is surely one of the most prolific creators of viral web shorts in the world. If you have email, it's almost guaranteed that someone has sent you a link to one of his shorts – whether it's 'Scampi' or 'Badgers' or my personal favorite 'Magical Trevor.' These shorts have been viewed millions of times on his site alone, and on site's like b3ta.com have streamed his work equally as much if not more. Picking's work was actually covered on this site a while back, when Jonti's 'Kenya' short was named as a finalist in the Nicktoons Film Festival. For more info on Picking, check out this interactive interview with him on the Samsung website.
There are no comments yet, add one below.