KAFI Chooses a French Rose
The Kalamazoo Animation Festival International 2005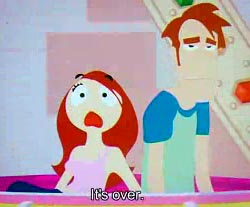 has come to a close. The KAFI cordons off a category called 'I-WEB' specifically for independent filmmakers who create 'Flash Animations and Websites.' As odd as that may sound, the judges seem to have come to an appropriate conclusion. Producer Jeremy Rochigneux and Director Arthur De Pins won the category for their short 'L'Eau de Rose.' It's a beautiful little film exhibiting excellent Flash animation technique and taste, and you can see the entire film online. My European Flash-blogging counterpart Stefan de Groot passed Arthur a question about their process, and here's how Arthur replied:
As for L'Eau de Rose, the animation of characters was made in Flash. Afterwards, we placed all the elements together with After Effects (cabins, wheel, cars, pedestrians, etc…)
Don't miss other work by this duo, in particular, 'La Révolution des Crabes,' and the short clip currently playing on Arthur's homepage. Congrats to all of those in the competition.
There are no comments yet, add one below.