Navarro Gets Attacked on G4
There's a new interview with Kenn Navarro,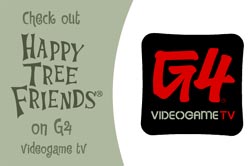 the co-creator of 'Happy Tree Friends' posted over at the Attack of the Show website. It follows the announcement from a few weeks ago that HTF would be airing on the G4 network, the home of Attack of the Show. To get up to speed, you can read the Cold, Hard Flash interview with Kenn from this past April here. Also check out the Flash-animated interstitial created to announce the partnership.
Related Posts
In an all-new episode of the massive online hit Happy Tree Friends, Sniffles plugs in for some dream research, while Lumpy channel surfs. The result …

January 17, 2014

by

aaron

A brand-new Happy Tree Friends episode isn't all that fell out of the sky yesterday. Along with the Camp Pokeneyeout short film came an all …

Lifty and Shifty, a pair of kleptomaniac raccoons, star in an all new episode of Happy Tree Friends titled Buns of Steal. This latest installment …

A brand new episode of Happy Tree Friends just launched, and I challenge you to find a reference to the very first HTF episode ever, …