Political Flash Animations
Editor and Publisher Magazine recently published an article by Dave Astor titled 'Animated Cartooning in a Flash.' It's a look into the growing field of political animation, an off-shoot of editorial cartooning. Two San Francisco-based cartoonists are featured – Mark Fiore and Don Asmussen.
Mark was once a staffer at the San Jose Mercury News, a place where he was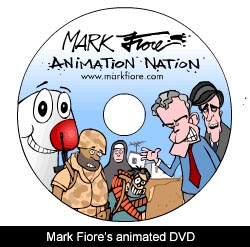 once asked to 'go easy on Bush.' He's now a featured artist on several newspapers' websites, including the San Francisco Chronicle, The Village Voice and The Seattle Weekly. In the article, Fiore explains his new Flash-animated approach – "The same message, but less reading." Fiore's career was also examined in a USC online journal article by Mark Glaser titled 'Can the Internet rejuvenate editorial cartooning?' Here's an interesting bit about Mark's work week and rates:
…he's been able to support himself doing one animation per week, and doing a small self-syndicated run to Working For Change, AOL, Village Voice, as well as SFGate and MotherJones.com. He charges about $300 per outlet per animation, and would like to add more outlets, without overexposing himself and having to lower his price.
You can see more of Mark's work over at his website, and notice that he's also selling his animated work on a DVD.
Don Asmussen has been regularly published in Time Magazine, The New Yorker and U.S. News and World Report. But back in 1999, Don got a call from the CEO of Mondo Media, John Evershed. What resulted was 'Like, News,' a Flash-animated show that supposes "what if Nightline was hosted by an irreverent teenager named Skeeter Dubois?" Mondo and Don ended up created dozens of episodes together, along with a little help from a few familiar names – Kenn Navarro and Michael Lipman, otherwise known as Lippy. Don continued his relationship with Mondo beyond 'Like, News' and you can see his more recent political cartoons on his website, dontoons.com.