Gene Fowler: The Comeback Kat, part 1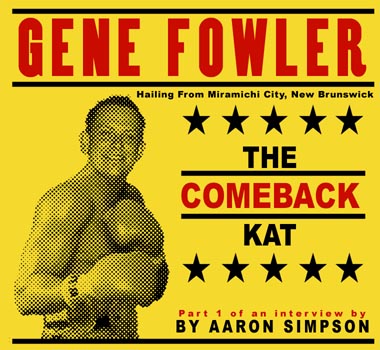 Everyone loves a comeback. Lance Armstrong, Apple Computer, Carlos Santana; they saw the end of the line, and then refused to quit. Flash animation went through a rough spell after the dotcom collapse, as parent company Macromedia witnessed its stock price plummet from $100 to $7. As the tech investment capital disappeared, so did many animation production houses that relied on Flash. And in early 2003, Fatkat Animation Studios (then known as Trainingscape Studios Canada) closed its doors after 3 years of exciting work and relative prosperity.
But much as Flash animation has seen a revival in recent years,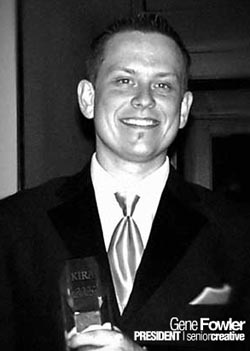 so have the production companies that spawned the revolution. Enter the second chapter of Fatkat Animation Studios, the Miramichi City, New Brunswick animation house headed up by Gene Fowler. Not long after closing, Fatkat re-opened its doors, and ever since the work seems to be flowing in faster than ever; with network pilots, possible feature projects and Fatkat originals all packed into the production pipeline.
It's a poignant comeback story, and Cold, Hard Flash recently discussed this and many other topics with Gene Fowler, the owner and founder of Fatkat Animation Studios.
AARON SIMPSON: Fatkat Studios disappeared for brief stint. How does the current iteration of Fatkat Studios differ from the previous collective?
GENE FOWLER: Well for one, I own the company now. Before I was simply the executive director of an un–incorporated collective of animators. Most people think that I'm an older gentleman with years of industry experience. Fact is, I'm only 28 and when I opened the first Fatkat studio I was only 24. The studio was assembled for one reason, to create Flash animated interactive training films for a company in California. You can read the full story on our website.
The new collective of artists were born into Flash, whereas the old collective of artists didn't know what it was when we started. Being the only surviving member of the last studio I can teach our team proprietary production techniques that are proven while they dream up ways of making it all better and experimenting with new, innovative techniques.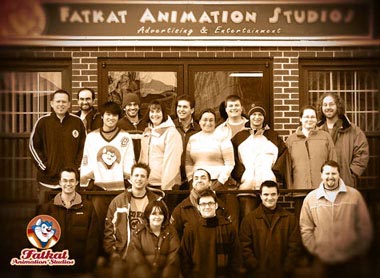 AARON: Once Fatkat reformed, was it easy to get the band back together?
GENE: Yes it was actually. As soon as the Trainingscape ship had sunk, I immediately banded together with a group of friends from the studio: Steve Kahwati, Robin Mitchell, Rod Amador and Juan Cruz Baldassarre, and we started over. Most other people saw me as the devil. Even those whom I regarded as close friends turned their backs to me. That's the price of being the boss I guess.
These guys had all the high level talents Fatkat needed to get back in the game.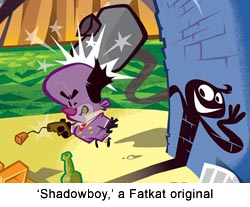 But it was slow going and the abrupt sinking of Trainingscape left us pretty broke. In the months following the Trainingscape break up, many from the group left to search for work elsewhere. It was pretty mutual and we all understood the situation. Rod and I stuck together for a few extra months and produced 4 pilots for a CBC short series. After those were done, I moved back to Miramichi, New Brunswick and Rod back to Ottawa, Ontario. We pretty much did nothing that summer. Some freelance work here and there. We still keep very much in touch and work together and visit each other from time to time.
AARON: How many employees currently work at Fatkat?
GENE: There are 6 official producers beating the bushes for us; while roughly 22 artists plug away at the projects we bring in for them.
AARON: When did you discover Flash?
GENE: I found out about Flash in 2000. Said yes to a few hefty contracts without even knowing how to use it.
AARON: You've described your studio as 'Flash-exclusive.' Is Fatkat a Flash-only studio?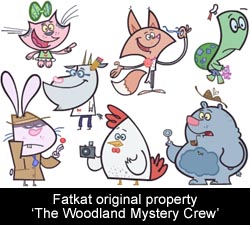 GENE: Well, 90% of everything we do is Flash. I have been doing huge productions in Flash for a long time so we push our expertise in the Flash production pipeline. We also execute in Maya and After Effects as well.
AARON: What type of project isn't right for Flash?
GENE: There are very few, except for the obvious ones. I would say that a lot of mo'graph' (motion graphics) stuff that could be done in Flash would be better left to After Effects. For example we produced a 30 second spot for the RCMP last April in Flash that would have been better through After Effects. But at the time, the person behind it didn't have enough training in AE so he used what he knew best. Still looked great, client loved it – but would have been better in AE.
AARON: What's the secret to designing a character so that it works well in the Flash animation pipeline?
GENE: Depends on the production but some of the general items are little things. Making sure that the character and all it's parts were created at 100% true size and not resized to fit the work area after it's been designed. There's nothing worse then hitting the true size shortcut key and having all the body parts explode/implode. Also making sure all the centre points are in the right spots and that the symbols are set to single frame. All layers should be named properly and also color coated. We even keep the library super clean. Nothing out of place, nothing out of whack.
Other notes of interest are keeping the whole character and all of its layers in a layer folder, but also, along with that, keeping a layer on the outside of the folder that is associated with that layer. So that when animating you can select a key frame in that blank layer and drag it down into the folder, which selects all the hidden layers in the folder. Pressing F6 leads to not only putting a keyframe on the blank layer but all those in the folder without having to actually open it. There's lots of other little things but let's keep them for the rest of the interview.
AARON: Can you tell us more about the 4 pilots you created CBC's ZeD?
GENE: They were pretty stiff and limited but it was the most we could muster for the timeframe and budget. We went on to produce 20 more that fall. We were starting to find our groove so the last half of them looked pretty good.
AARON: One the bigger projects you produced for ZeD was called 'And I Still Blame Hollywood' ('AYIBH'). Did this production go smoothly?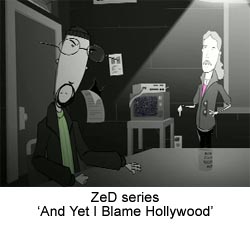 GENE: Yeah for sure. It was great little project and our first co-production along with New Brunswick's first animated series. A big step for us along with our province. The other producers were out of Prince Edward Island, Copie Zero Media + TV. Great guys over there; good story folks.
The Production went off without a hitch. ZeD and Copie Zero pretty much left us alone with the whole thing. All twenty episodes went out on time and on budget.
Compared to a lot of our stuff they were a bit subpar animation and design wise – but the comedy was good and so was the animation for what it was. A fun production indeed. It didn't get picked up for a second season. 'AYIBH' was ZeD's first commissioned series. It seems that season of the entire show (not just our portion) was too expensive. The following season they eliminated commissioned pieces and now just pay on delivery. It's great for independent producers whom are looking for a chance to get their stuff on TV. It's a great idea they have going on there and indeed worth a look.
That's the end part 1. Check back soon for part 2 of Gene Fowler: The Comeback Cat.