Gene Fowler: The Comeback Kat, part 2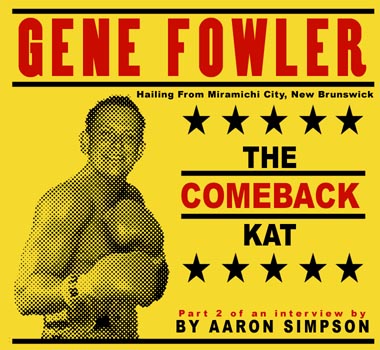 Earlier this week, Cold, Hard Flash posted 'Gene Fowler: The Comeback Cat, part 1,' and, as promised, we're back with part 2. In the conclusion of the interview, we learn about Fatkat Animation Studios' recent hiring ramp-up, the studio's original projects and some of Gene's inspirations.
AARON SIMPSON: You're currently in a hiring phase, as you ramp up to new projects. Are you finding enough talent?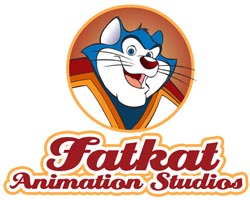 GENE FOWLER: Yeah, we're crazy busy. Finding Canadian talent is becoming difficult. I'm getting a ton of resumés everyday, but a lot of them don't have the skills I need and many of them are outside North America, many from Italy for some reason.
AARON: What do you look for in a Flash Animator?
GENE: I look for strong creativity and draftsmanship – period. If they seem to have cool ideas and know how to design or animate well, we can teach them Flash. Although knowing Flash or After Effects on top of having the other two elements will insure a strong fit for Fatkat.
AARON: What schools are you seeing strong Flash animators emerging from?
GENE: Sheridan College seems to have some talent coming out. They were always strong in the traditional sense, and now they're teaching Flash too. NBCC Miramichi is also pumping out some strong students.
AARON: What projects are you guys currently chewing on?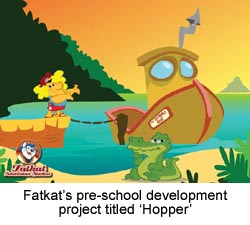 GENE: Oh man, tons of stuff. We're working on a prime time series for The Comedy Network with our pals at Copernicus Studios in Halifax. We're working on three web cartoon series for some major players in the states. Just wrapped on two music videos, one for Pat Green and the other for The Dears, we're also working on animation tests for a Flash feature and a preschool show called 'Humf.' We're also developing a pre-school show called 'Hopper' with The Comedy Unit out of Scotland and developing our own shows too.
AARON: What new tricks have you guys been employing into your Flash animation process?
GENE: Wouldn't you like to know? We have some cool little gadgets that allow us to speed up the way we animate. We have some programmer buddies that have made some things in the past for us and again in the present. The Flash code has a hole in it that allows us to make some tools and integrate them into the menu. Fun stuff for sure.
AARON: How does your studio keep abreast of the latest advancements in Flash animation?
GENE: By keeping up on the most informative sites. Cold Hard Flash, Cartoon Brew, AWN, subscribing to all the newsletters and magazines also keeps us up to date.
AARON: Fatkat is currently developing several original properties. Are you planning on producing pilots first, or will you pitch them off show bibles?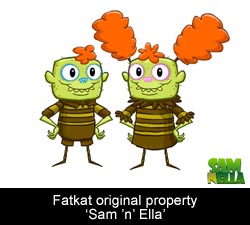 GENE: We always pitch the show with the least amount of investment possible. It all starts with a high level concept right? So we figure its enough to throw in some artwork while making sure that the idea, age group and network are appropriate. We used to just produce one sheets, with art and concept on the front cover and company bio on the back; we found this simply wasn't enough for the networks and it certainly wasn't enough for us.
We find that you actually have to put the work into creating a pitch package not only for the benefit of the network who'll need to know the show, but also for your benefit. To be absolutely sure that YOU know the show inside and out. Mashed together ideas bring in mashed results. Spend the time. Do it right the first time; as you only have once chance per broadcaster. They tend to not want to see the show again once they've made up their minds.
AARON: Stylistically, do you think a Flash feature project will require a different approach?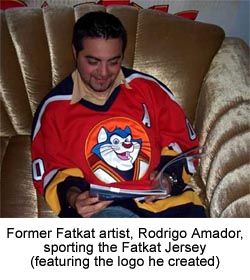 GENE: We're currently working on a test for a Flash feature for a producer in the UK. The show will be very realistic, close to what we've done in our last training film 'Universal Revolution' but unlike it as well. We've come along way in Flash since then, so we plan on kicking it up a notch with this one. The setup will be the same, but a more sophisticated design will lead the way and it will move a lot differently. Backgrounds in 3D and props too. The kicker is going to be in POST though. We plan on hooking up with Ex-Fatkats at Copernicus Studios; there Juan Cruz Baldassarre has some neat techniques on leveling everything into 3D space and keeping movement in the scenes with variant speeds. I believe it's the first Flash production of its kind.
AARON: Have you experimented with other vector animation software packages?
GENE: We played with a program called Swift 3D in the past. Can't say we used it all that much though. In upcoming productions, like the feature, we'll certainly be using more of that stuff though.
AARON: What Flash TV shows do you watch regularly?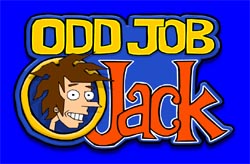 GENE: I honestly don't watch a lot of TV, which is silly considering how often we produce commercials and broadcast shows. But since hockey has been off the air I have been tuning in to shows like 'Foster's Home for Imaginary Friends,' 'Odd Job Jack,' 'Atomic Betty,' '6teen,' 'Peep in the Big Wide World,' 'Ratz' – whenever I can find it, as well as Sean Scott's creation – 'Doodlez' that Campbell MacKinlay and co. are producing. That show is great.
AARON: Which character designers do you draw inspiration from?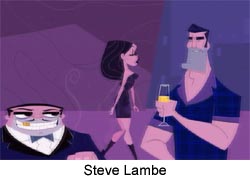 GENE: Now that's a question! Fellow Fatkat Mick Harrison for one. He's the best damn cartoonist in the world! Another Fatkat James Stewart has a neato style. Former Fatkat's: Cindy Blakney, James Walsh, Rodrigo Amador, Andrew Holland, Darren Rawlings, Jordan Greenstein, Steve Lambe, Brad Cayford and Peter Auld have inspiring styles.
Fatkat Freelancers: Mike Gilbert, Dagan Moriarty, Jonathan McNally and Jessica Borutski have killer designs.
Industry Dudes: Aaron Augenblick, Gary Dunn, Bob Staake, Shane Glines, David Feiss,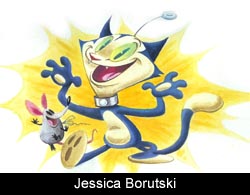 Luc Latulippe and Stephen Silver. Superheros: Ed Benedict, Ward Kimball, Jim Flora, man there is so many more! I have about 5GB of pictures from all these guys and the drawing board which I try to download as much as I can from.
AARON: What animated DVDs are you currently watching?
GENE: The first and second season of 'Dangermouse' and 'Samuari Jack.'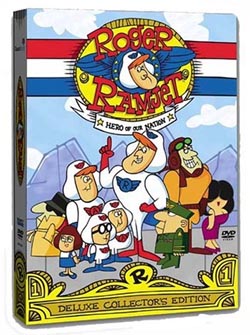 I always find the time to throw in 'Cats Don't Dance' or 'The Iron Giant' along with 'Road to El Dorado' or 'The Emperor's New Groove' too. I gotta get myself the 'Roger Ramjet' and 'Rocky & Bullwinkle' DVD collections along with all the 'Pink Panther' stuff too. It's all so good. I prefer older cartoons.
AARON: Thanks, Gene. Very informative interview – and best of luck on the veritable flood of work you guys seem to be enjoying!