Run Matt, Run
The Washington-based running equipment manufacturer Brooks Sports recently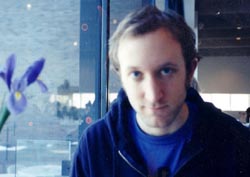 launched a worldwide marketing campaign that incorporates various artists' interpretations of the running world. Eric Samsel and others at JohnsonSheen Advertising (now called JohnsonCowanHanrahan, I believe) in Portland, Oregon pulled together the creative and brought in a variety of 'underground' artists, including Seth, Brian Ralph, Farel Dalrymple, and Matt Clark.
You may know Matt's work from 'Robot the Robot,' his Flash-assisted online comic. But Matt is probably best know for his illustrations, one of which graces the cover of the short story collection, Bullfight,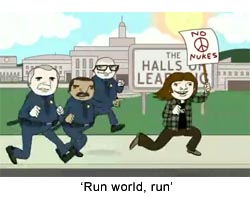 which I have a personal affection for. However, Matt also knows his way around the animation software known as Flash, and the gang at JohnsonSheen hit him up for a 90-second animated spot on top of his Brooks print work. Once Matt was done, the gang at JohnsonSheen brought the Flash files into Final Cut Pro for some trimming, the end title cards were added in, and then they polished the audio. The result is 'Run world, run,' which also happens to be the name of Brooks' worldwide marketing push.
As far as I can tell, it's a web-only spot, but it's catchy as all hell, the animation is slick and well-paced and it must surely hold the record for the longest panning background in animation history. It doesn't hurt that the music accompanying Matt's work was supplied by Chris Ballew, the lead singer for the popular alternative pop band The Presidents of the United States of America.
Matt recently answered a few questions for Cold, Hard Flash about 'Run world, run' and his busted knee.
AARON SIMPSON: When did you first pick up Flash?
MATT CLARK: I started playing with Flash on my roommate's Mac in the spring of 2002.
AARON: How did you wind up working on the Brooks piece?
MATT: I had already done a few print pieces for that Brooks campaign, so I had relationships with the people at the ad agency. When they found out that Brooks wanted an animated spot, they asked me if I could animate, so I worked through the weekend and put together a very short demo reel that ended up getting me the job.
AARON: Do you use Adobe Illustrator for your illustration work?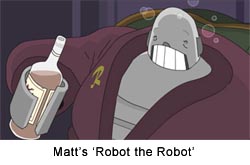 MATT: Not really. I never got used to Illustrator. If I'm doing something vector-y, I draw it in Flash because the line manipulation is so much more intuitive. Then I export to Illustrator, and copy and paste into a Photoshop file for coloring.
AARON: What do you think about the design toolset in Flash when compared to Illustrator?
MATT: The tools in Flash are way better. WAY better.
AARON: What was the most difficult aspect of the Brooks video?
MATT: Coming up with ways to use Flash's tweening capacity to create the illusion on 3 dimensions was (and continues to be) pretty hard. The running characters' far arms were tough, because parts of the arm and the torso take turns obscuring each other – I had to build some tricky masks.
AARON: What new Flash tricks did you teach yourself while creating the 'Run World, Run!'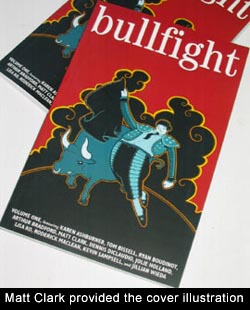 MATT: I learned a lot about using masks, and also a lot about nesting graphic symbols. Nesting symbols let me anchor the parts or limbs that needed to articulate, so I could build easily poseable 'dolls.'
AARON: Do you have any other Flash animated projects in the pipeline?
MATT: I'm working on a short film of my own, featuring the robot character from my old comic book (http://www.robottherobot.com/). I've also been talking to some people about doing some more commercials, although nothing's concrete yet.
AARON: Are you a runner yourself?
MATT: Not for a long time. I ran track in high school, and I blew my knee out running a 4 x 100m relay. I had to have an operation to fix it, and it really set me on the road to a sedentary life.
AARON: Thanks, Matt. Best of luck. And a big thanks to Corey Barba for help with the story.