Bernard Derriman, part 1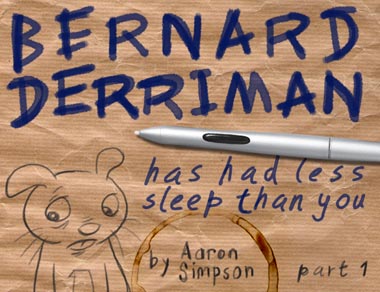 Bernard Derriman toils away at his Disney animation post, plotting out a scene for an upcoming 'Bambi' DVD, pining for a night off. But it's not to be. Instead, Bernard will travel from his animation disk in the city to his Wacom tablet at home, and settle in for another long night of posing and little dozing. It's the life of an independent animator with a full-time animation job.
To what ends, you ask? Well, the long hours are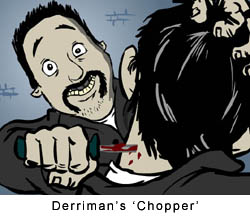 surely paying off for Bernard. It all started back in the 2001 at the biggest short film festival in the world – Sony Tropfest. Bernard took first place in Comedy category with a film titled 'Chopper.' His 4-minute short twists the already twisted tale of Chopper Read, the notorious Australian criminal. Bernard's animated version comes complete with a singing children's chorus, and much like the feature, it's easy to find yourself giggling through the bloodshed.
But it was last year when things really got rolling. Bernard's animated music video (or 'video clip' as they're called in Australia) for the Australian band TISM took the world by storm. Titled 'Everyone Else Has Had More Sex Than me,' the video was the winning submission in a competition held by the band, who hoped to uncover a catchy look for their song of the same name. The Flash-animated video that features a sexually frustrated bunny went on to become one of the most viral clips on the web, eventually picking up the People's Choice Award at the Second Annual TGSNT festival. The subtleties of Bernard's character animation weren't lost on the selection committee for the 2005 Annecy International Animated Film Festival. It's a major accomplishment, as Annecy is considered to be the world's preeminent animation festival.
But Annecy held more in store for Bernard this year. He and Arj Barker,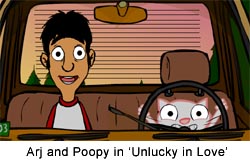 the California-based comedian, received the Netsurfers award for their 'Long Distance Relationship' film, which is part of the hysterical 'Arj and Poopy' series. This was perhaps the most gratifying moment for Bernard, as the 7-part (and counting) 'Arj and Poopy' series is responsible for most of his all-nighters.
As Disney has now announced the imminent closure of Disneytoon Studios Australia, we might just find ourselves with regular doses of 'Arj and Poopy,' but that all remains to be seen. What is certain is that Bernard will, before long, follow his good friend Adam Phillips out the Disney gates. While the events of the past few weeks have played out, Bernard put down his Wacom pen long enough to answer some questions for Cold, Hard Flash, and rumor has it, not long after, he quickly went back to animating.
AARON SIMPSON: Where did you first learn animation?
BERNARD DERRIMAN: I'd always flirted with animation as a kid – whenever I got my hands on a video camera at someone's house I would be doing stop motion stuff, and all my school books had flipbook animation in the corners of every page. But it wasn't until I started work at Disney that I really learnt animation, learning on the job.
AARON: What was your first assignment at Disneytoon Studios Australia?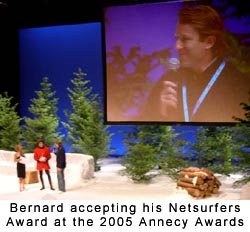 BERNARD: I'm not sure I can remember – when I first got to Disney we were doing series work, I think it was the 'Goof Troop' TV series.
AARON: Where did you work before you landed the Disney job?
BERNARD: Nowhere. I was finishing high school and wasn't enjoying studying much, so university wasn't looking like a great option. My father saw an employment ad in the paper for Disney and I went along for a test and got the job, before my final exams. I didn't do any studying after that.
AARON: Are you still working at Disney?
BERNARD: For the moment yeah, but as you know they have just announced they are closing the studio after the next project, which is a Cinderella sequel, so I will probably hang around and see that one through.
AARON: When did you first meet Brackenwood's Adam Phillips?
BERNARD: Probably about 10 years ago, he arrived at Disney just after me. We have been great mates right from the start.
AARON: Did you and Adam ever work closely on projects at Disney?
BERNARD: Looking back, not really – I've always been a character animator, and Adam was always awesome at Special Effects, as you can see with all the 'Brackenwood' shorts. In fact, very early on he became the Special Effects Supervisor at Disney, so while we didn't necessarily work closely together, I'm sure there are a lot of scenes over the years we've both contributed to.
AARON: Do the two of you swap Flash tricks?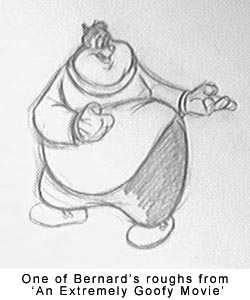 BERNARD: Actually, not really. Well first of all, 'Brackenwood' fans should thank me for introducing Adam to Flash. I first got into it in 2000 and Adam saw some of my early shorts and then he began doing some too – classics like 'Pokies.' Now Adam is a freak with Flash, he knows just about everything and writes books on it. As it happens we don't really swap Flash tricks as such, but Adam helps me with some of the technical stuff like actionscript when I need it.
AARON: Have you two ever considered working on a Flash project together?
BERNARD: We kind of have, but we're both really involved with our own things – me with 'Arj and Poopy' and Adam with 'Brackenwood' – and on top of Disney, we haven't really had the time.
AARON: Looking back at your Disney work – do you have a particular sequence you're most proud of?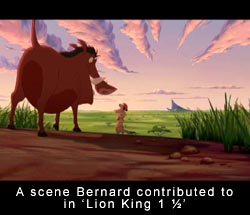 BERNARD: I did a scene during the end credits of 'An Extremely Goofy Movie' where I animated PJ, the big character, doing a dance, which some people remember. I also animated a lot of Pumbaa in 'Lion King 1½' which I really enjoyed doing, and while there's not a particular sequence that comes to mind, I was happy with the animation I did on that film.
AARON: What led you to pick up Flash?
BERNARD: I once set up a website and created it with Flash, and it included some really simple animation. That got me started on it, and soon after I realised how much you could do with the programme, and that's when I began animating little shorts.
AARON: What animation software had you used before you learned Flash?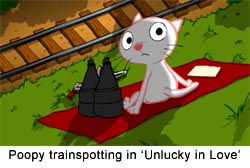 BERNARD: I remember I once used a lame animation programme back in the late 80′s on my parents Mac, which I used to create pissweak 20 second shorts. But other than that, nothing – Flash was my first.
AARON: What does Flash allow you to do that you weren't capable of on a traditional 2D project?
BERNARD: Heaps of cartoons! In '99, a friend of mine and I developed a television animation series idea and we decided to create a 3 or 4 minute pilot. I only knew traditional animation, so I set about doing the whole thing myself: old school. It ended up being pretty elaborate, and since I was doing backgrounds, animating, cleaning up and inbetweening on it, the workload was out of control. In the end it probably took me over a thousand hours,
and thousands of drawings, paper, pencils and dollars in post production. If I had done it in Flash, which I discovered a year later, I would have completed it in a fraction of the time for nothing, and somewhere a small forest would still exist.
That's the end of the first half of the Cold, Hard Flash interview with Bernard Derriman, the co-creator of 'Arj and Poopy.' Come back soon to check out part 2.