Flash 8 Pre-order
It's official! Flash Professional 8 has been announced,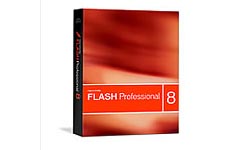 and it ships mid-September. I was hoping we'd get our hands on it this month, but we'll have to suffice with a pre-order. There had been rumors that the price of the software would double, but it looks like a modest increase in price – $699. Here's an early preview over at Macworld.
*** UPDATE #1 ***
The Macromedia site has posted a preview page that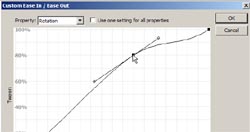 hurries through the new functionality of Flash Professional 8. I noticed the custom easing tool, that allows for more dynamic motion control, while not adding keyframes.
Also, if you download the Flash Player 8 Public Beta, you can view some some of these new tricks, which I'm hoping aren't just real-time effects.
*** UPDATE #2 ***
Mike Downey, a Technical Product Manager for Flash over at Macromedia and perhaps the most most consistent voice coming from HQ, posted his list of 'The lesser-known new features of Flash Professional 8 (part 1).' Enjoy!
*** UPDATE #3 ***
Digital Producer magazine has published a syndicated article titled 'New Features in Flash 8 Professional' that contains a clever example Flash 8′s new functionality. You'll need the new Flash Player 8 Public Beta to view.