Maggie Told To Buzz Off
Rumor has it that this not a rumor – 'The Buzz on Maggie'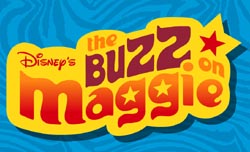 is not coming back for season 2. Artist and ex-Maggie crew member Sean Szeles has just confirmed this on his blog. I'd heard only a few days ago that 'Maggie' was nearly a lock for another season, but it seems otherwise. To all crew members – great work, and best of luck on your next project.
Related Posts
The team at Curious Media handled this new Flash-animated short for Disney, featuring emojis that tell the tale of Frozen. It's a clever format, and …

Future Cinema is a London-based theater that specializes "in creating living, breathing experiences of the cinema." They've done Ghostbusters, Shawshank Redemption, Saturday Night Fever, and …

Chris Allison (aka Toonhole Chris) is at the controls on the latest weekly animated short. Today we're treated to a deleted scene from Disney's The …

November 15, 2013

by

aaron

It's A Small World, the animated series, is soon coming to an internet near you. Based on the 50-year old Disney theme park ride, the …
There are no comments yet, add one below.