More Nextoons Tonight
We're near the mid-way point in the week-long animation shorts-fest

known as Nextoons: The Nicktoons Film Festival. Looks like we're in for more amazing shorts this evening, and a Flash-animated short is amongst them.
Mig Said…
By Mig Jou
'Mig Said…' is billed as 'a series of fables on the theme of self-confidence and love.' As far as I can tell, this short isn't viewable on the web, but some of Mig's illustration work (like the image to the right) can be seen over at heyshow.com here and here. I believe Mig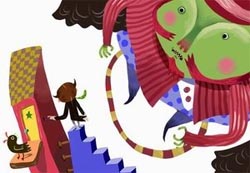 is a popular Taiwanese illustrator, and I'm not certain, but I believe he has released a children's book that can be found here. Some of his work is also featured on a Taiwanese newspaper site – click on the links in the lefthand column to see more. More illustration and painting can be see at the giggigaga.com site (scroll down and click on the green links).
There are no comments yet, add one below.