Nextoons – It's On!
It's begun! Nextoons: The Nicktoons Film Festival is underway. Last night was the first airing of a bushel-ful of new animation shorts, complements of Nicktoons and Frederator. And for the next 7 nights at midnight (EST), you can catch more cutting-edge animation fresh from the foundry. Nearly every medium is on display – CG, stop-motion, hand-drawn, and of course Flash. Tonight is no exception. Two of the nine shorts in this evening's presentation are Flash-animated, and the first should be familiar to regular Cold, Hard Flash readers.
I Like Pandas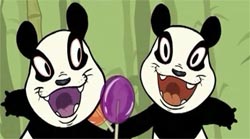 by Jessica Borutski
This film was recently spotlighted here at CHF, but it looks like Jessica didn't need much help getting the word out. 'I Like Pandas' airs tonight on Nextoons, and next month it will screen in the Canadian Film Showcase at the Ottawa International Animation Festival. Beautiful designs, snappy timing, all set the mesmerizing beats of the Brit-band Plode. It's hard not to like these pandas. Click here for an exclusive clip from 'I Like Pandas.'
Peeves – Toilet Water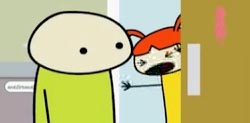 by Scott Lipe
Lo-fi rock licks compliment this lo-fi animation about things that tick off Scott Lipe. The idea and the loose, off-the-cuff narration are what make this project click, and it feels as if these were interstitials created for the MTV Jr. network. The tagline says it all: 'They're annoying things, and they make you say "jeez." They're your peeves!' Clips are availablee over at Scott's site.
There are no comments yet, add one below.