Nextoons' Z-Files
Nextoons: The Nicktoons Film Festival is nearly over.

Only two nights remaining in this animation festival that airs on Nicktoons at 12 midnight! Tonight we're treated to the Flash animation stylings of Quebec's Zee Risek. In his series titled 'Z-Files,' Zee uses audio tracks from old government films like 'Duck and Cover,' (presumably pulled from one of my favorite sites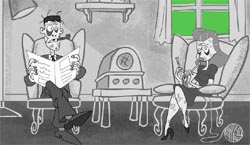 archive.org) and animates new life into these aging relics. Check out more of Zee's work at Flying Iguanna Productions.