Puffy AmiYumi Flash Article
Film and Video Magazine recently published an article by Michelle Paster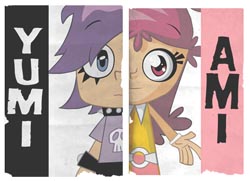 titled 'Flash Equal Financial Freedom.' The target of Paster's article is Cartoon Network's Flash-animated show 'Hi Hi Puffy AmiYumi,' which is produced by Glendale, California's Renegade Animation. The article offers up some budget figures and details why Flash has allowed Renegade to save a heap of money and keep the production stateside.
Darrell Van Citters, Renegade's supervising director and co-founder, is a big Flash-animation proponent. He's quoted in the article saying that after looking at alternative software solutions, Flash "…was the most cost-effective solution for what it had to offer, providing for quality control and [prevention from] going off model."
Head on over to Film and Video Magazine to read the entire article.
There are no comments yet, add one below.