Shake Your Bunny Maker, part 1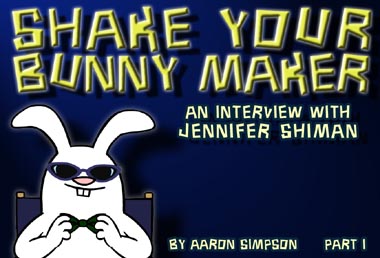 Most animated programs on TV are produced by relatively large teams. It's not unusual for a program to have upwards of 75 people working in some capacity on a project. A cursory Google search turned up these facts: 'Sitting Ducks,' the 3D-animated show hosted 64 employees, while 'Hi Hi Puffy AmiYumi' is created with a 40-person production crew.
Now imagine a crew of one.
That crew is Jennifer Shiman, and she is currently working with the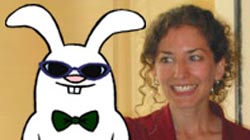 cable network STARZ! to produce a series of 30-second spoofs of Hollywood movies, all reenacted by Flash-animated bunnies. '30-Second Bunnies Theatre' was already an internet sensation, drawing over 25,000 viewers a day, and then the Starz Entertainment Group came hopping along. Now Jennifer has moved up to the big time, without adding a big time crew.
It's a testament to Jennifer's well-rounded skills – she writes, storyboards, voices and animates each short from her home studio. The animation medium has always been inviting to auteurs who want to do it all, but with Flash the possibilities are even greater. With Flash's low barrier to entry (cost and ease-of-use) and it's penchant for low-bandwidth delivery, animators can do quick work and then quickly get it in front of a huge audience.
And that's what Jennifer did. In the halcyon days of the dotcom boom,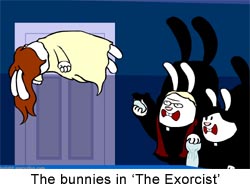 she was steadily working in Hollywood as a multimedia designer and animator, occasionally pitching a project or two around town and updating her website. Three years later, she pieced together a 30-second reenactment of 'The Exorcist,' and in place of Linda Blair and Max von Sydow, Jennifer inserted animated bunnies. And just like that, Jennifer had ushered a hot new show concept into the digital world without scheduling a single pitch meeting.
Since then, she's been invited to the 2004 Ottawa International Animation Festival, where her 'The Shining' short took first place in the 'Internet Series' category; she's been interviewed by G4 TV; the writers of 'X2: X-Men United,' Mike Dougherty and Dan Harris, chipped in voices in one of her shorts; her 'Titanic' spoof was screened on 'Good Morning America' and this same short is reportedly going to be included on the upcoming 'Titanic' Special Edition DVD this October; and of course, Jennifer landed her STARZ! TV deal. Not bad for 30-seconds.
Cold, Hard Flash recently passed on a set of questions to Jennifer, which, ironically, she answered with the help of a 60 person crew.
AARON SIMPSON: So you're really a crew of one?
JENNIFER SHIMAN: I do everything from concept development to implementation, except additional voices (friends and cohorts help me out) and post-production, such as laying off the Flash-exported file to tape or film.
AARON: I'd guess there's not another TV series on the air with such a small production team. Do you ever see a need to expand?
JENNIFER: I'm asking myself that question now. In various capacities I am going to need help soon, and I'm ruminating on how to go about getting it (and, where extra help will be most helpful).
AARON: Do you create animatics before you begin animating your 'Bunnies' shorts?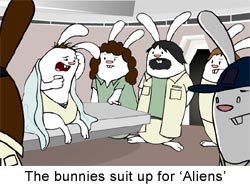 JENNIFER: No I don't. I do run through a bunch of versions of thumbnail storyboards though. And by "thumbnail storyboard" I mean an indecipherable scrawl of half-notes, lists and pictures in my notebook.
AARON: As you animate new episodes, do you find any opportunities to re-use assets from previously animated 'Bunnies' shorts?
JENNIFER: Absolutely, I try to re-use assets whenever it makes sense. For instance, I have a library of bunny mouths and certain background elements such as clouds, light fixtures, doorknobs. These assets still need adapting, depending on e.g. the line thickness of the scene in which I use them. But they do save time.
AARON: Describe how you got the bunnies from inside the Flash program out onto tape and ready for TV?
JENNIFER: On my end, I work within a reticle/action-safe template that I found on Flickerlab.com's great tutorial on using Flash for output to broadcast. AndrewProkos.com had great tips too. Then I export the .FLA movie to a hi-res Quicktime Video, which is usually 700-900MB in size (I work on a Macintosh, by the way). I compress the exported QT video using DropStuff and upload it via FTP to a server where the Starz people can download it, unstuff it and plop it into e.g. Final Cut Pro (I work at 15 frames per second, and they covert the frame rate and lay it off to tape over there).
AARON: Did you have to re-build any of your Flash assets in order to make your short films TV-ready?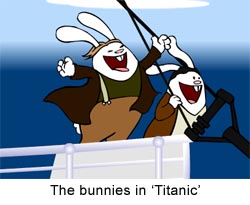 JENNIFER: I did need to make adjustments, for example, I created a few of my first re-enactments at the Flash default size, 550 x 400 pixels. When Starz licensed those particular ones, they needed them sized at 720 x 486 pixels for their broadcast purposes. So I needed to place the entire re-enactment within a movieclip and resize it accordingly on a 720 x 486 stage (and adjust any animation to fit within action-safe boundaries). Then I had to make sure all movieclip instances of animation had been changed to graphic instances, so they'd appear animated when I exported to Quicktime video. Additionally, I had to be careful of the color palette I use, to avoid having colors appear shockingly bright on TV.
AARON: How did you celebrate when your 'Bunnies' shorts first aired on STARZ!?
JENNIFER: I whooped with glee! Then I sat down at the desk and got back to work.
AARON: Any chance we'll start seeing 'Bunnies' merchandise on the shelves?
JENNIFER: I already have bunnies and other angryalien merchandise available via my website Â? I use the proceeds to offset bandwidth costs. Eventually I'd like to expand the merchandise offerings though.
AARON: Is it safe to say you've learned the intricacies of parody and fair use legprecedentent?
Indeed!
That's it for the first part of the Cold, Hard Flash interview with Jennifer Shiman, the creator of '30-Second Bunnies Theatre.' Check back soon for part 2.