Nightmare City – Flash Rawk
Clairvoyance, the Japanese animation studio, has released a new Flash short,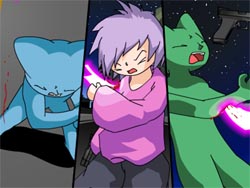 titled 'Nightmare City: Catastrophe,' to coincide with the recent Flashbomb event in Tokyo. It's a follow-up to their 'Nightmare City' short from last year's Flashbomb event, and it surely doesn't disappoint. The special effects alone are worth the watch, and for those of you looking to create your next short, consider the rock-laden musical montage. Think about it – no lip sync.
Thanks to the Gil Crows website for the link.