Ottawa Flash Animation Winners
The 2005 Ottawa International Animation Festival has come to a close,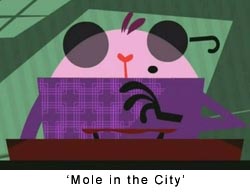 and 3 Flash animated projects have been hailed. In the 'Animation Short Made for the Internet,' Roque Ballesteros (Ghostbot), won for his 'Mole in the City' short, which is part of the 'Happy Tree Friends' universe. Roque's work was hailed for its "for its bold art direction, comic timing and entertaining story."
'Manege Frei,' a German Flash-animated short that was featured here a few months back, received 'Special Mention' in the same category.
In the 'Television Series for Adults' category, 'Harvey Birdman, Attorney at Law' won for the 'Birdman of Guantanamole' episode. This Adult Swim show wasn't always animated in Flash, but the more recent episodes have been.
Congratulations to all nominees and to the winners of OIAF 05!