Planet Sketch Lands on Cartoon Network
'Planet Sketch,' Decode Entertainment's co-production with Aardman Animation,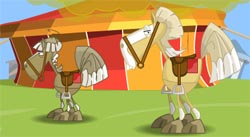 has been picked up for the Latin American market by Cartoon Network. This CGI and Flash-animated show is already slated to air on Canada's Teletoon and ITV in the UK. According to an article on the World Screen website, 'Planet Sketch' is targeted at the 7-11 year old market. The show is built a sketch-comedy program, and the Decode website adds that "sketches feature different characters, but the series is cohesive thanks to the design style and to the creation of a neighbourhood where the characters all live and operate."
The 'Planet Sketch' website is now up, and it features several Flash models and short animated bits. It seems as if the show is predominantly CGI, but it's still being billed as a hybrid production.