Two New Flash Animation Articles
I've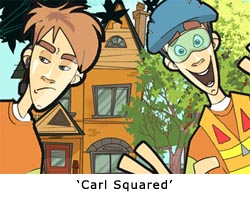 recently spotted a few new articles focusing on Flash animation production companies. The first is in the Austin-American Statesman, titled 'Austin a center of digital animation,' and it highlights a couple Flash-friendly studios, Powerhouse Animation and Horseback Salad Entertainment. Here's a quote from that article…
Using Flash software, an off-the-shelf computer animation program, HorseBack Salad keeps its costs down and attracts projects that might have ruled out animation because of budget constraints.
The second article comes from the Ottawa Business Journal, and we learn more about PIP Animation Studios and Funbag Animation, both located up in Ottawa. The article, titled 'Child's Play,' reveals that 'Carl Squared,' the new series on Canada's Teletoon network, is being produced with Flash software. Here's an interesting quote from Dave Fortier, the director of studio operations at PIP Animation.
The industry itself has changed significantly because in the 80s all of the (animated) material was produced in North America and then it started going overseas," he says. "By the 90s, virtually all material was done overseas, but things have changed now with the ever-dropping prices, smaller budgets and the flexibility of Flash, which can do just about anything and allows the artist to have complete control.