Aaron Stewart Gets Jerky
Aaron Stewart, one of the big-name directors at the design and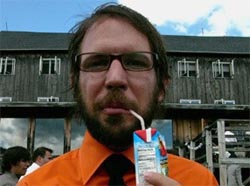 animation studio Hornet Inc., recently completed a series of web-only spots for Jack Link's Beef Jerky snacks. Working with Carmichael Lynch, the Minneapolis-based agency, Aaron crafted 3 Flash-animated shorts in the vain of dry, instructional '50′s PSA films.
All three spots are available for viewing at the Hornet Inc. website (view Loin Cloth – view The Rabid Tball Fan – view The "Talker" in 5B) or at the Jack Link's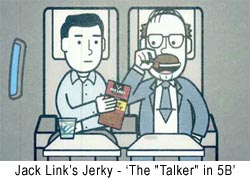 website.
On the heels of a 2-part interview in February of this year, Aaron sat down to answer a few questions about his latest effort.
AARON SIMPSON: How long did the Jack's Links project take?
AARON STEWART: It took about three weeks to complete. With me and two other animators (Dan Abdo & Jason Patterson).
SIMPSON: Did you produce animatics before getting the final greenlight?
STEWART: We created a detailed story board and a test animation to show how the vintage film would look like.
SIMPSON: What type of animation direction did you pass on to your team to achieve the look you wanted?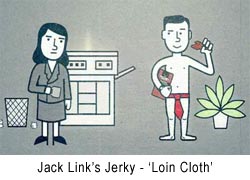 STEWART: I wanted to create a dead pan, instructional animation feel. Making it a little clunky created the charm I was looking for. We wanted to look like a old instructional film that a teacher would show his student. Like we found it in storage and it was created 50 years ago.
SIMPSON: Who designed the characters for the spots?
STEWART: I created the characters and designed the overall look of the piece.
SIMPSON: Other than Flash, what software was utilized to finish the spots?
STEWART: We used After Effects to create the vintage look and to edit the piece to audio we used Final Cut Pro.
There are no comments yet, add one below.