Anime Title Reproduced in Flash
Behold, a faithful reproduction of a popular anime classic – built in Flash.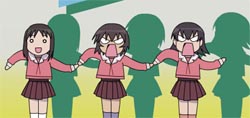 If I'm getting this story right, a fan has reproduced a short segment from 'Azumanga Daioh,' the manga title that was turned into an anime series in 2002. The original follows several Japanese high school girls through tests, sports and holidays. This 'homage' of what appears to be the title sequence was hand-traced in Illustrator, and then rebuilt in Flash. It's flawless and very entertaining, but one might ask, why?

Thanks to Gil Crows for the link.